How it all began with Trash Cans & Happy Birthday
Happy Birthday to INKAS TOUR!
The 8th and the 2nd Birthday to be exact.
You might be wondering what why the 8th and the 2nd Birthday?
Well because 8 years ago was the Start of this Crazy Trash Can Adventure. On November 16, 2008 I embarked on a Train Journey across Canada with a Quest that would change my Life.
On November 13, 2014 the first post on Inkastour was Published. So that makes two Birthdays. What do you think?
—  Of course due to the delay of the Website redesign and a small mid-life crises or something along those lines, live does not always pan out the way it should be or the way we want things to be. So TODAY on MAY, 14, 2017 marks the 8.5 and 2.5 Birthday of INKAS TOUR as mentioned above. —
The Trip, the Journey that started this crazy Adventure.
Some people are hunting Pokemons, I am hunting
Trash Cans
, and have been for 8.5 years and counting. Any Trash Can is a Gold Medal to me. And they are everywhere, just take a look. Who knew that she would be so right, with a simple quest, a simple idea that they are everywhere.
Some cities around the world, understand that Trash Cans are such a impactful item in our Society, they understand that they should look pretty and tell a Story. These Trash Cans are more likely to be appreciated than your ordinary Rubbish Bin. Those ordinary Garbage Cans will never get the Fame they deserve. Sometimes we also crop them out of our Photographs because they are not pretty. To me they are the main Subject, that can't be missed on any Trip, Hike or Walk. And to be honest sometimes they have the most amazing views.
Check out these, to embrace this unique way of seeing the World:
• How it all started 8.5 years Ago
• Winter Trash Cans from around the World
• A City filled with Hidden Gems: Kitzbühel, Austria

We have Dreams, Goals and Quests.
In March 2008 my Dream was to travels across Canada before I would leave the Country again.
In September 2008 I started planing the Dream, and made the Dream into a Goal.
In Late October 2008 I was sent on a Quest, my a dear Friend, who wanted to be a part of my Travel /Dream/ and Goal but could not. And the Quest that started it all, was developed.
Who would have known that 8.5 years later she would still be a part of this Quest, Dream and Goal.
Thank to the person who sent me on this Quest, that has made me tell the same story over and over again, that gave my Travels a unique touch a unique Story.
To honour this unique day, I went digging and searching through "old" Photos, yes of Garbage Cans, to just show that they are beautiful in there own little way. And how it all started.
#1: The Lovely Face behind the Idea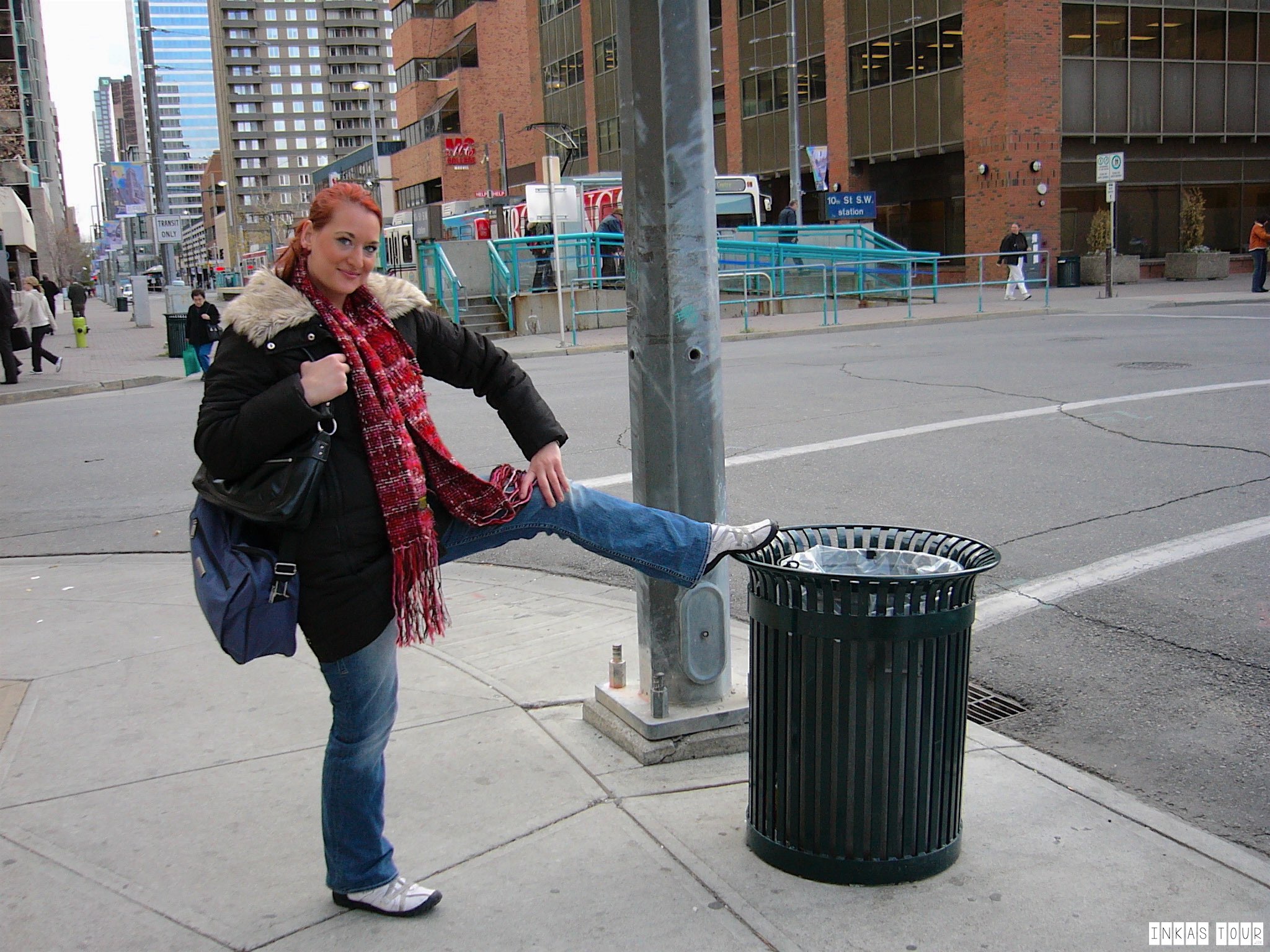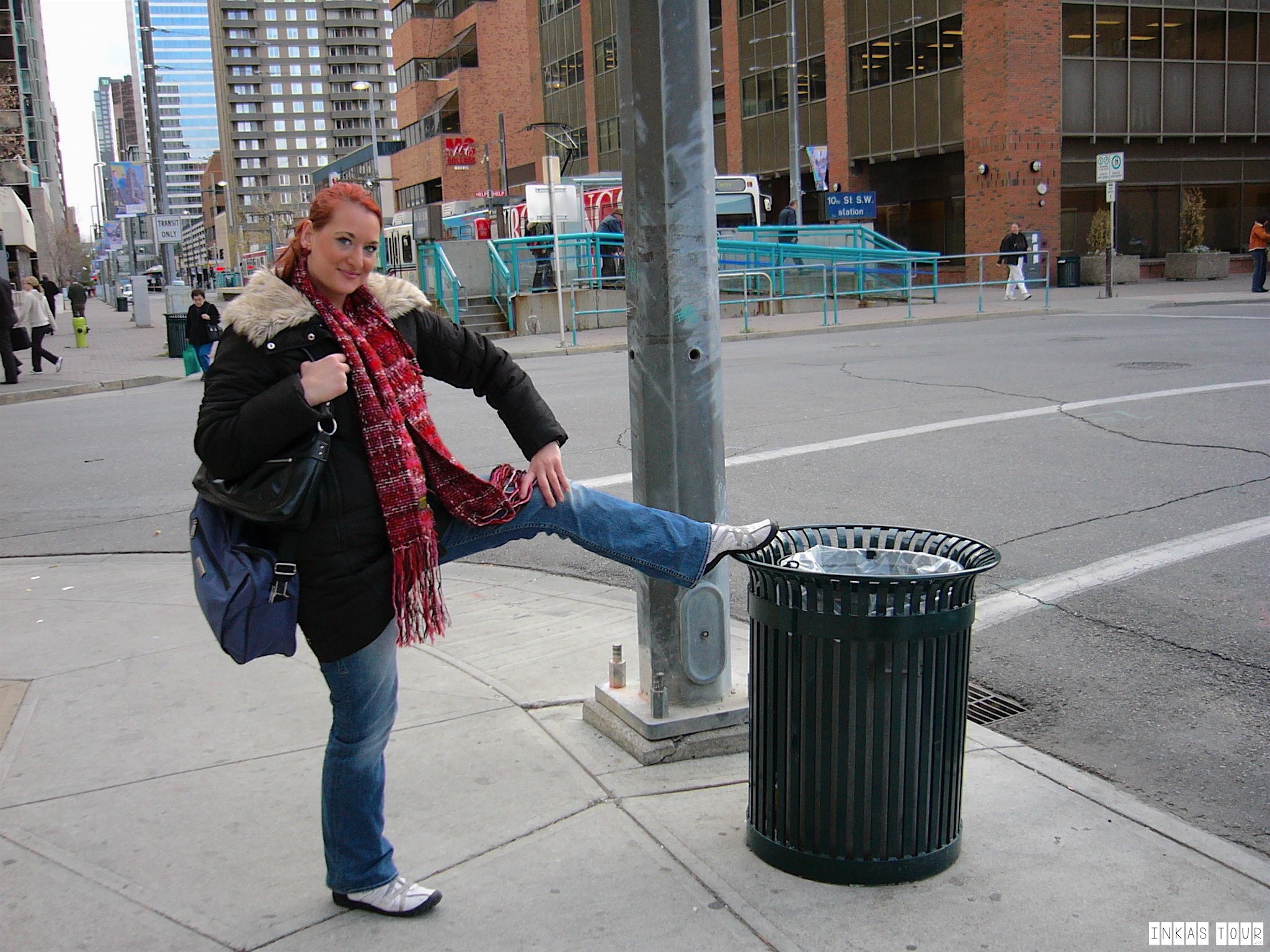 Oh yes she did : She Posed with a Garbage Can! Once the Quest was out there, there was no stopping on a weekend getaway, to Cowtown (also know as Calgary) the Groundstones were set.
The Genius Mind that made her way into my Travels all those years ago. Jenna it is time we meet up, I hear Greece waiting for us, almost screaming our names… it's time to get your ass over to Europe.
Life is determined by the people you meet. To get inspiration we sometimes have to face new things.
#2: Some Love to Start with
How about some Love, a Pink garbage Can with a Heart Opening. The official start of the Crazy Garbage Can Journey in Vancouver. Still one of my Favourite to this day.

oes not matter is you look in Sweden, Australia or Stuttgart there are some people out there who understand, that there is something unique going on here. Garbage Cans do not need to be their standard green.
#3: Colorful Trash Cans
#4: Unique Locations and Amazing Backdrops
#5: Unique Messages
The Toronto Garbage Can actually Talks when you open it or operate it.

#5: Places you want to Build a House
All because you may meet that one Australian Backpacker, who has seen more of your Home Country than you have, or because you hear someone talk about how amazing the Niagara Falls are. Those small moments, make you want to go somewhere unique and do crazy things.
And one more:
The Train Journey that changed everything …. a lifetime really. If you would have told me this is where I would be 8.5 years ago I would have been the last person to say: HELL NO!
This is my Photography Salad around the World, hoping to be able to inspire you to create new Memories, and embrace the Journey not the Destination.
You will find Inspirational Tips, Tools to make you planing super easy and amazing, Baking from around the World and just a general Cap in having fun and enjoying Life. And of course the Occasional Trash Can because it just belongs.
It's your chance: How do you feel about this mix? Is it too strange? Give me Feedback in any way for form.
** I appologize for some of the image quality, but that is just the way it was.
---
All content, pictures Copyright © 2015 by InkasTour.com • All Rights Reserved. All other content is copyrighted by the respective authors and linked to Origin.
Receive the latest news & stay up to Date!