On the Top at Sunrise, Kitzbuhler Horn

Sometimes we experience moments, Sometimes the moments experience us. They Define us.
Sometimes other will think you are Crazy, Stupid or Clueless.
When you do something out of the "Normal" you will receive these labels at some point or another.
How can this idea be stupid? –> On the top at Sunrise, Kitzbuhler Horn!
But believe it or not even in a crowd or people, even in a see of a 100 sharks, you will find that one other person that is just a Crazy, Stupid and un-Clueless as you. That one person won't think if your ideas are crazy, and well just say "Okay, Lets go!, When?"
This scenario happen recently. Being a Tourist in my own Home, makes you do all the Tourist things in a place, because who knows when you'll be back again. But for this one crazy idea everything worked out perfectly. Sunshine, Cloudless Sky and an amazing View and that on top of the Kitzbühler Horn.
Activity of the Day: Sunrise and Breakfast at the Kitzbühler Horn.
Waking up at 3:30 am to get to the Liftstation at 4:30 to watch the Sun Rise at 6:10, following a full day at Work. But even so sometimes the sacrifice of sleep is worth it for these types of adventures.
Can you understand now, why some people would think that I might be a little crazy? Thankfully for me, I found in a Colleague / a great Friend who is just as Crazy as me, and was up for this adventure right away.
Best to let Impressions carry the Story from here.
Kitzbühel is not only pretty in Winter but also in Summer. The Kitzbühler Horn has an amazing Panoramaview. You can see as far as the Grossglockner (on a Sunny day), which is the highest Mountain in Austria, at 3798m .
When working and traveling around the world, it makes the current Homes more special. You have time to explore and see things at your own pace. However with one day off a week you are dependant on good weather and Sunshine. Lucky for us, on this day everything came true. The Sunrise over the Lofer Steinberge (which literally means Stonemountains), the day was shining in full glory, with perfect Sunshine, but honestly see for yourself.
Half of the Actives in the Mountains are Outdoor Activities. You have not been to Kitzbühel if you have not been up to the Kitzbühler Horn. All the times I have tried before, everything possible happened. Bad Weather, too many Clouds, missing the Bus into Kitzbühel, ending up walking into town and getting to the Liftstation to late. But I feel like it was meant to be because who honestly would want to miss and opportunity like this? Especially with view like this.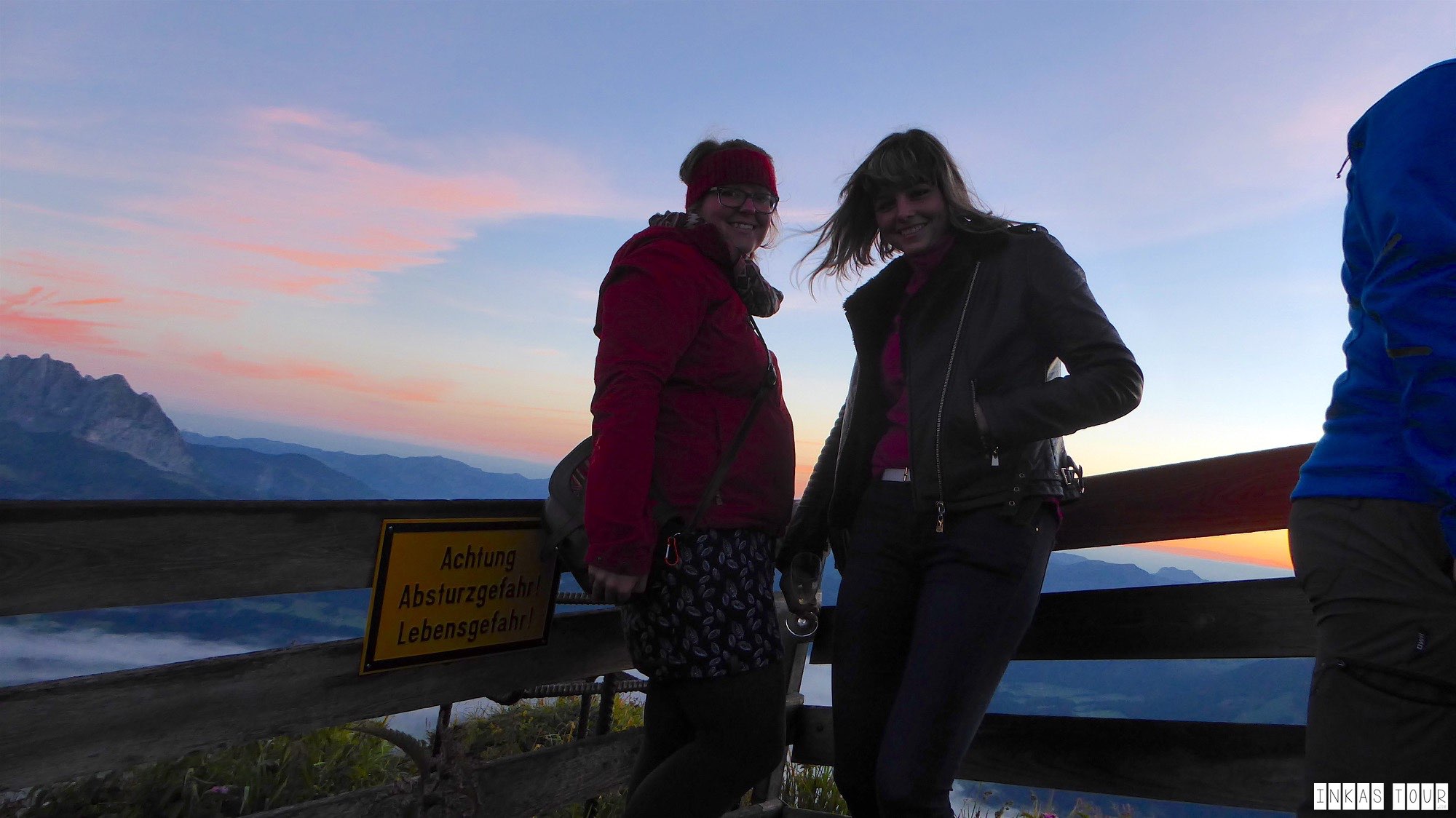 There are some people out there who are just as crazy as you. When you find that one person, remember " People come into your life for a Reason, a Season, or a Lifetime" What ever the reason may be enjoy the moment, and give Thanx to those small moments.
Have you done something similar to this? Something others may say your crazy for doing so?
---
All content, pictures Copyright © 2015 by InkasTour.com • All Rights Reserved. All other content is copyrighted by the respective authors and linked to Origin.
Receive the latest news & stay up to Date!