10 day Itinerary – North Island, New Zealand
Tourist don't know where they've been, travelers don't know where they're going." – Paul Theroux
Well let us change this and become a Tourist that remembers the Destinations, but not a Traveller that doesn't know where they are going next.
Have you ever wanted to Travel to New Zealand? Do you feel like you may not have enough time? Well stop that worry immediately, because I say three weeks is enough to see New Zealand, without regrets. Don't believe me well then better check out this Itinerary.
10 Days on the North Island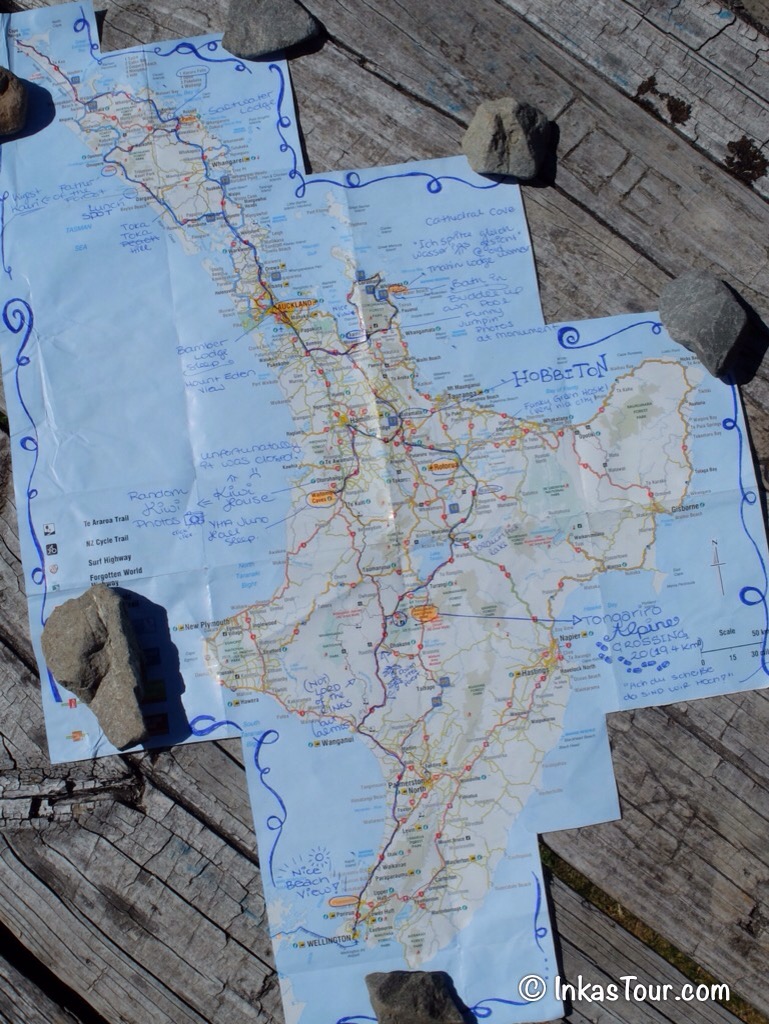 Day 0 – Arrive in Auckland
Nightstop: Auckland
After a long flight, take a Night in Auckland. Make sure you stay up as late as possible if you are Arriving from Europe or Asia to get accustomed to the time difference. Today is also the day you want to make sure you are ready to start early the next day, have a car ready for pick-up, scope out a Grocery Store and relax and enjoy having arrived on Holiday.

What to do in Auckland in one afternoon!
Day 1 – Auckland -> Up the Coast to Paihai
Nightstop: Paihai
The Northland of New Zealand, the A1 North. Take small stops where ever you think it's beautiful, it will be worth it. Make a stop at Waipu Cove, maybe even for Lunch. Make it a day trip. Spend the night in Paihai.
Day 2 – Take a Tour to Cape Reinga
Nightstop: Paihai
I found this to be part great way to take, as the fuel price is almost the same as the cost of the Tour. It's also a great way to learn a little bit about the Area. Besides who gets to claim they drove along a beach, the 90 mile Beach, with a Bus and went Sandboarding. cape Reings the most Northern Point of New Zealand.

From Paihai to Cape Reinga and back, all Colorful and in full detail!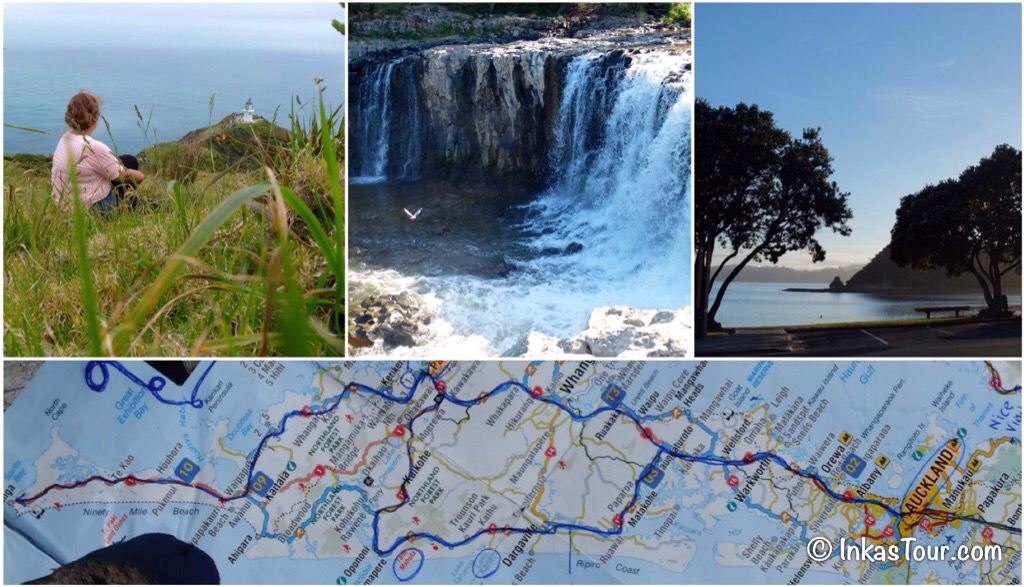 Day 3 – Down the Kauri Coast
Paihai – Tane Mahuta – Kai Wi Lakes – Auckland
Nightstop: Auckland
The Westcoast of the Northland is also known as the Kauri coast. These Kauri trees are hundreds of years old and as definitely worth their time, it's quite impressive to see.
Day 4 – Coramandel Peninsula
Auckland – around the Coramandel Peninsula – Hoter Water Beach – Hahei
Nightstop: Hahei
It takes about two hours to get the the Coromandel Peninsula, but it is well worth it. Make sure you check out the times of the Hot Water Beach, because you can only shovel you own Bathtub at Lowtide.
Day 5 – Hahei – Hobbiton – Waitomo Caves
Nightstop: Waitomo Caves
Hobbiton a must see, when in New Zealand. Only available through visit with a tour, leave from Matamata. (Tours also leave from Rotorua).
Do you feel the need to have some inspiration, then just follow link.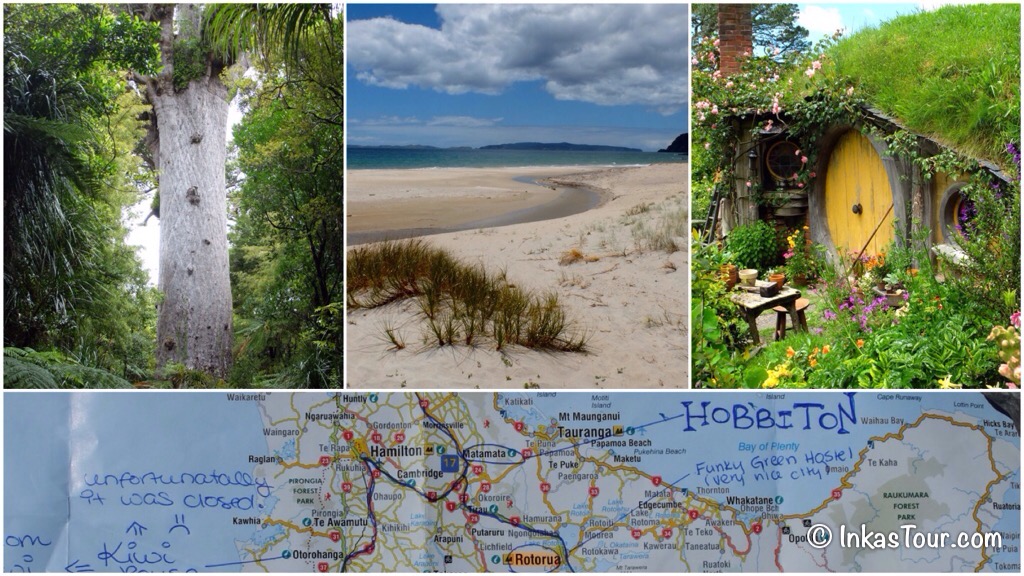 Day 6 – Waitomo Caves – Black Water Rafting – Rotorua
Nightstop: Rotorua
Go see Glowworms! Like Action then go on a Black Water Rafting tour, highly recommended. Black Water Rafting is not like white Water Rafting, but is referred to spending time in a cave with tubing, climbing, jumping with a bunch of Gloworms. In Otorohango there is also a Kiwi House.
Day 7 – The Volcanic Lands
Rotorua – Waiotapu Thermal Wonderland – Taupo – Tongariro National Park
Nightstop: Tongariro Alpine Village
Enter the Volcanic Area of New Zealand, see spectacular colors at the Waiotapu Thermal Wonderland, the beautiful Lake Taupo with the backdrop of the Tongariro National Park.
Day 8 – Tongariro Alipne Crossing
Nightstop: Tongariro Alpine Village
See Mount Doom, challenge yourself and take this 20km hike.
The Tongariro Alpine Crossing is a once in a life time experience, be inspired to follow suit.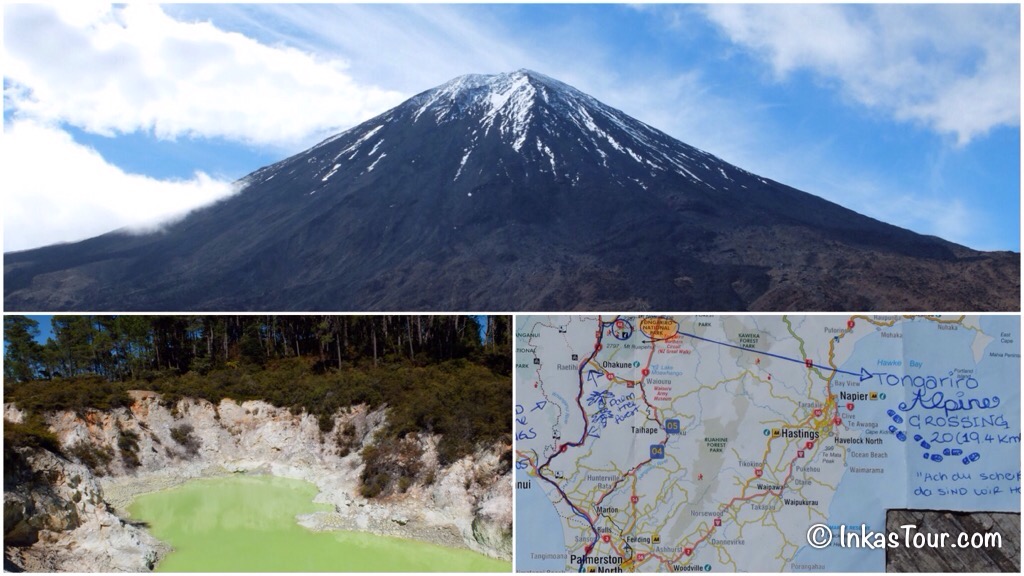 Day 10 – National Park Village -> Wellington
Nightstop: Plimmerton
Everything must come down. So here we go to the bottom of the North Island.
Have a few extra days?
Here are a couple of ways to spend them on the North Island.
– Raglan : on the West Coast, off Hamilton, is a great surfing Spot.
– Bay of Plenty : the Orchard of New Zealand, also home of the Kiwi and Fejoa Fruit.
That's it for the North Island … Check this out for the South Island in 12 days!
**Please Note that this itinerary is written for traveling with a Car and staying at Hostels. Small adjustments may have to be made if you are camping. However New Zealand has a great Network of Camping Sites, check out the AA Travel Guide and the local DOC (i-site) more more information on Camping. The daily start time is roughly around 8am and arrival at the designated Nightstop at around 5:30pm, unless otherwise stated.
---
All content, pictures Copyright © 2015 by InkasTour.com • All Rights Reserved. All other content is copyrighted by the respective authors and linked to Origin.
Receive the latest news & stay up to Date!