12 day Itinerary – South Island, New
Are you ready for the South Island of New Zealand? Don't believe that you can do it in a total of 12 days, we'll let me show you that it's possible. To be honest I would have though the same, but a tight plan, and only limited amount of Holidays sometimes gives extreme measures.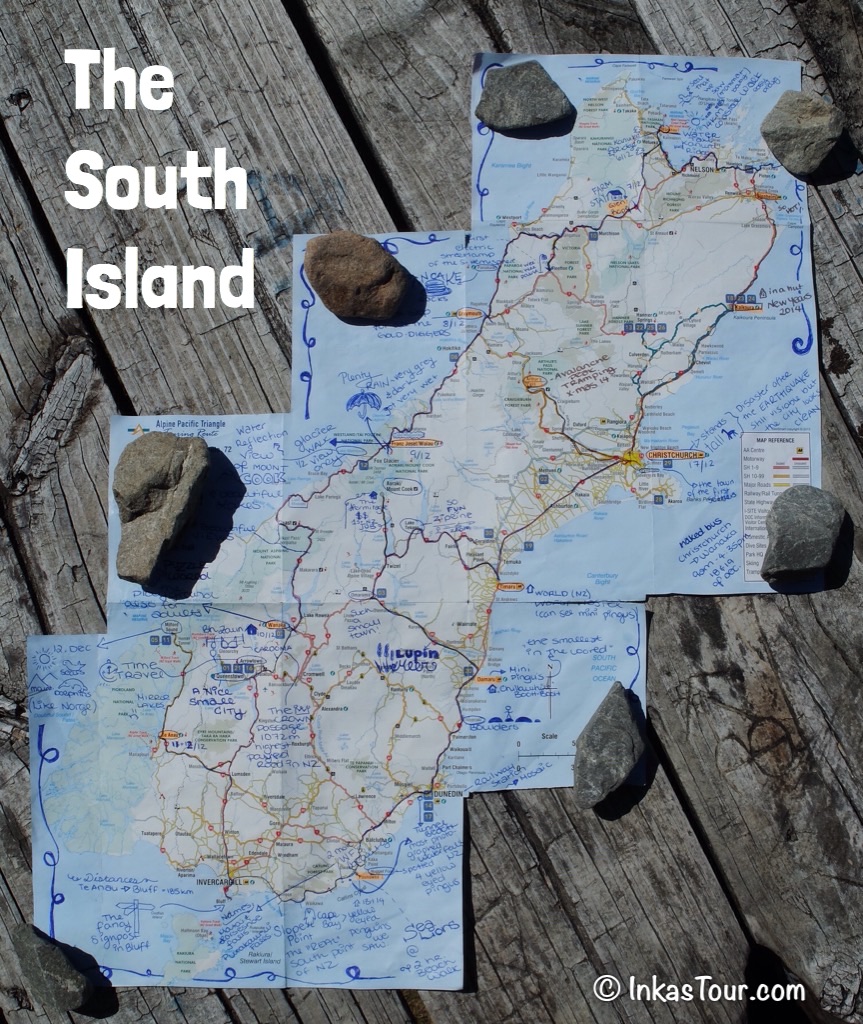 To start of let me say, the South Island definitely has more Nature to see, the days are more diverse, a every day is something special. You will drive from Grasslands, into Mountains, with Rivers and Lake along the side. You'll have Waterfalls, and Wildlife to no end. This itinerary is perfect for you if you like the Nature, and don't want to spend a lot of time in the Cities.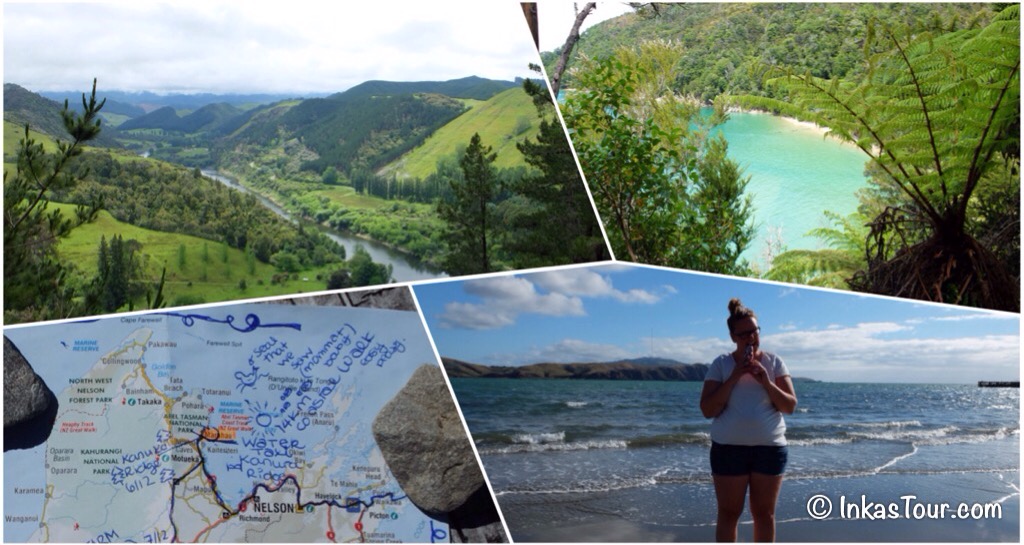 Day 1 – Getting to the South Island
Wellington – Picton – Abel Tasman National Park (Marahau)
Nightstop: Marahau
Taking the Ferry across takes up most of the morning, therefor the short drive to the Abel Tasman is enough for the day, use the rest of the day to relax. cause even that is allowed on Holidays.
Day 2 – The Abel Tasman National Park
Abel Tasman National Park (Marahau)- and a little bit south to Glenhope
Nightstop: Glenhope
The Abel Tasman walk is on of the Great Walks of New Zealand, obviously on a short time there is not enough time to do a 3 Day walk, but how about a part of it. Take a Water Taxi to Anchorage and walk back the last 12 km of the Trail though some beautiful Coastal Landscape, and feel like you are in the Caribbean.
Need a little more inspiration to get started, there is no better way than a few beautiful and amazing pictures.
Day 3 – Glenhope – Over Westport -Pancake Rocks – Greymouth (Marahau)
Nightstop: Greymouth
A Wonder of Nature is what I'd call the Pancake Rock, and a definite New Zealand must see. This day is a bit of a Driving Day, but I really would not want to have Rock Pancakes, yet for some reason I was craving Pancakes after this.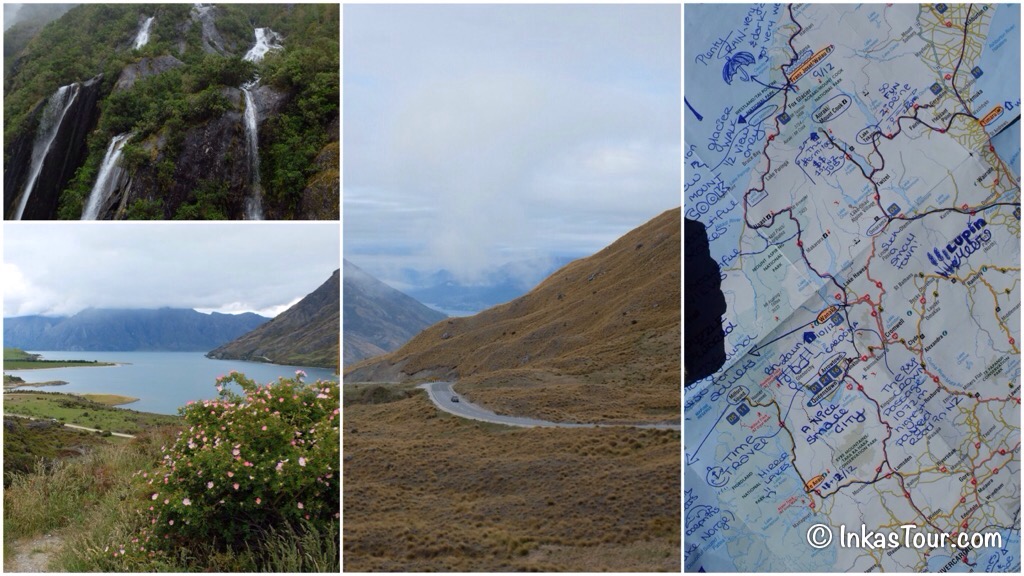 Day 4 – The Franz Joseph Glacier
Nightstop: Franz Jospeh Glacier Village
The drive from Greymouth to Franz Joseph is not very long, roughly you'll be there before noon. There are a few short walks that can be done in the village, on to the Glacier, or if you are lucky and would like to go on a Helicopter Ride, pick s sunny day to do it.
Day 5 – From The Fox to Wanaka
From on Glacier to another the, Fox Glacier to Lake Matheson, on towards Wanaka
Nightstop: Wanaka
A Day driving through the Alps, the scenery is once again Breathtaking, over the famous Hasst Pass. If you have bad weather in Franz Jospeh just look at the bright side and remember once you cross the Haast Pass it is likely to get better. Spend the evening strolling through the little Township of Wanaka.
The Fox Glacier and Wanka are some of the most beautiful places along New Zealand, check out the 6th Part of an epic New Zealand trip, to check out what there is all to see along this Stretch.
Day 6 – Throught the Southern Alps
From Wanaka over the highest paved road of New Zealand towards Queenstown and Te Anau.
Nightstop: Te Anau
The Journey through the Alps continues, be sure not to miss the Bra Fence in Cardona, and feel like your standing on top of the World while driving the Highest Paved Road (The Crown Range Road) in New Zealand. Enjoy a beautiful afternoon in Queenstown, known as New Zealand Adventure Capital. Want to go Bungy Jumping? This is the place to do it.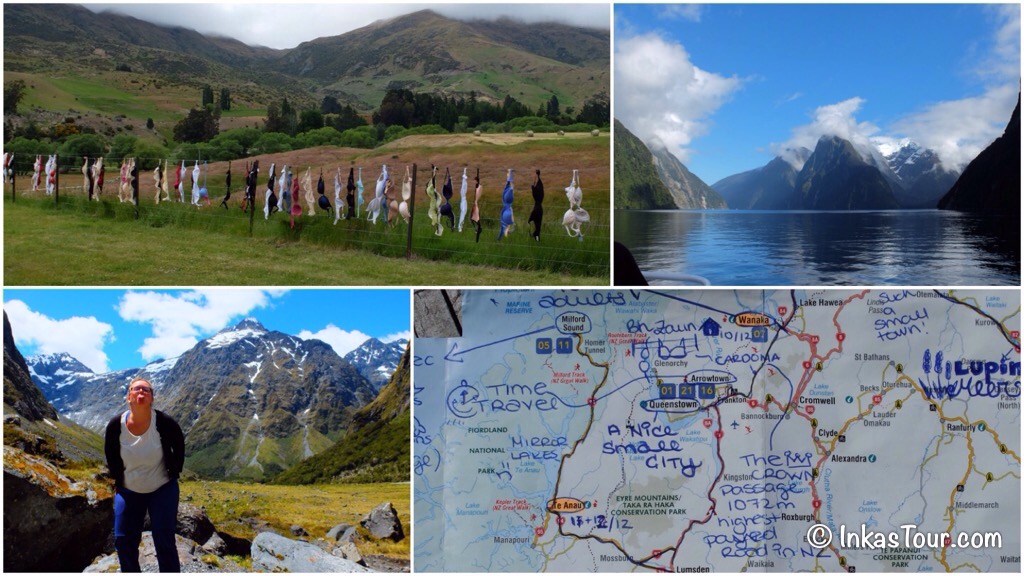 Day 7 – The Fantastic Milford Sounds
A Day trip from Te Anau up the A94
Nightstop: Te Anau
Te Anau is an easy hour and a half away from the Milford Sounds. Get there early to avoid the rush, and the Boat Tours to be too busy, there are 26 Bus parking spots and those will be full for the 11 am Cruises. There is plenty of time left in the day to explore the Milford Road on the way back to Te Anau, and have to lines and masses of people.
The Southern Alps in Pictures, you know you wan to! Be baffled by the Beauty!
Day 8 – To the Most Southern Points
Te Anau – Bluff – Slope Point – through the acts line to Owaka
Nightstop: Owaka
A place many go and a place many miss. Bluff is the 'official' southern point of New Zealand, having the identical Sign Post to the one in Cape Reings (the top of New Zealand). Although many people go to Bluff through Invergargill they will miss out the Catlins (the Most Southern Area of New Zealand's Main land). I highly recommend you take a day to explore this area, it's another diverse area of the unique New Zealand Landscape.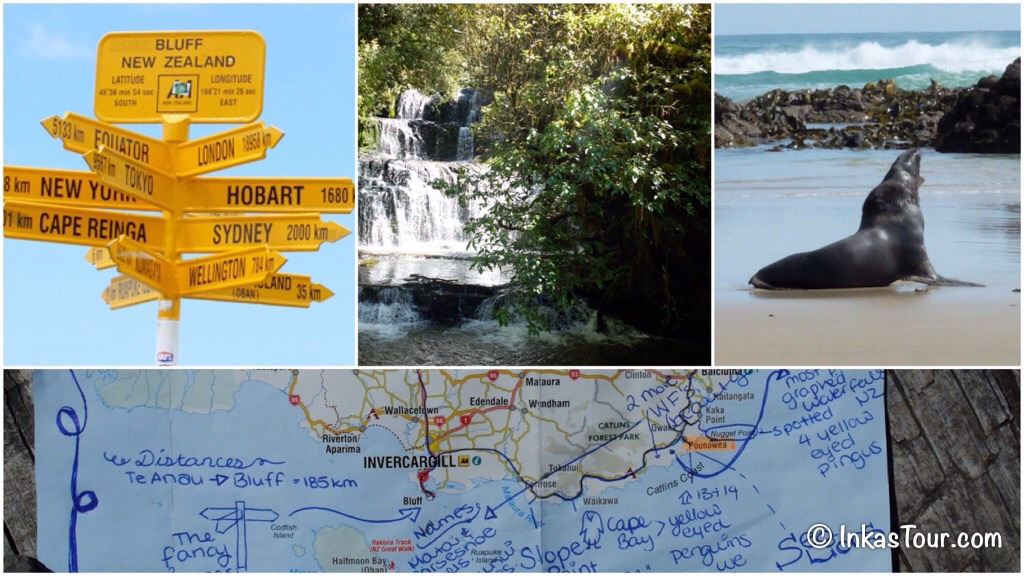 Day 9 – Exploring the Catlins
Waterfalls, Sealions and Penguins
Nightstop: Owaka
The Catlins, instead of driving straight from Invergargill to Dunedin, drive the Southern Scenic Drive. The Catlins are full to explore, you'll find the most photographed Waterfall of New Zealand, they are home to the Yellow Eyed Penguins, as well as Sealions. You also find some of the most awkward looking trees, as the winds blow quite heavily down here.
A part I never dreamed New Zealand would have, but hey some people travel completely without a plan (like me) but if pictures I can never get enough! The Catlins the home of fantastic Animals, totally alive.
Day 10 – The South of the West Coast
A beautiful Beach, a City and some Rocks.
Nightstop: Oamaru
There are always hidden gems around, Tunnel Beach is one of them. Find it you will enjoy thee peace and quiet. As the Nature struck more than the city Dunedin was only a short stop and a walk around, feel free to spend more time. It has a lot of Scottish Heritage. Further up the Road are the Moeraki Boulders. A Natural wonder that I find amazingly fascinating. How can Rocks like this just form on the Beach?
~ I was really looking forward to them, as this was one of the things I had heard of before leaving to New Zealand, my mom had told me about it. Apparently I also stood on the same boulder 25 years ago. Is is a faith? Or does a deeper part of me know I have been before?
Day 11 – The Mount Cook Loop
From Oamaru to Mount Cook, to Lake Tekapo.

Nightstop: Timaru
On a last minute decision we decided to take this Road, to Mount Cook, as the drive along the Road was just not too appealing. Recommended by far. Hopefully you will be able to catch a beautiful Sunny Day. If you are here late in the Year check out the Lupin Seas (hard to miss really, however they are classified as a pest, destroying s lot of other plants in there surroundings).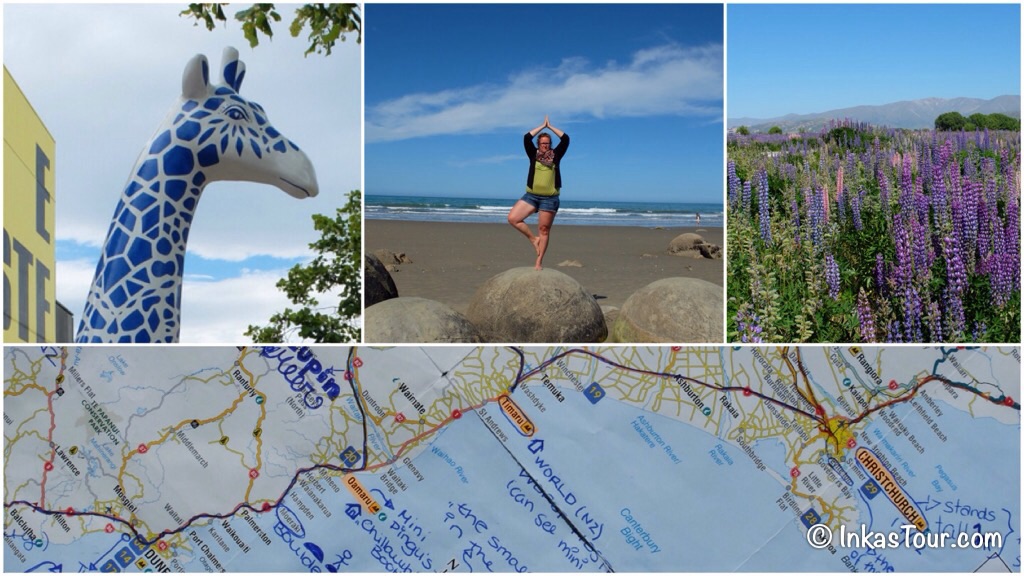 Day 12 – The last Stretch
The only day spend in a city.
Nightstop: Christchurch
After one last night, the end has come. Drive up to Christchurch, do some city sightseeing, shop for last minute suviniours and reflect on the amazing Holiday you just had, before (possibly) flighting Home.
And because all good things come to an end, the final part of course in Pictures. From Dunedin to Christchurch!
Have a couple of more days?
– Nelson National Park – has some beautiful scenery & hikes
– Kaikoura – want to go Whale Watching this is the place to go.
– Queenstown – spend a day or two in this City, go Bungy Jumping, or take a hike.
-Arthur's Pass known for it beautiful scenery, the pass the first Settlers of New Zealand had to cross.
An idea for an alternate Route:
Don't want to miss out on Kaikoura, head West to Kaikoura after the Abel Tasman, down to Christchurch and over the Arthur's Pass towards Greymounth.

**Please Note that this itinerary is written for traveling with a Car and staying at Hostels. Small adjustments may have to be made if you are camping. However New Zealand has a great Network of Camping Sites, check out the AA Travel Guide and the local DOC (i-site) more more information on Camping. The daily start time is roughly around 8am and arrival at the designated Nightstop at around 5:30pm, unless otherwise stated.

P.S. Thank you Alina for taking me on the ride with you! It's because of you and you limited time that I was able to do have this epic time, and let alone write about it.
---
All content, pictures Copyright © 2015 by InkasTour.com • All Rights Reserved. All other content is copyrighted by the respective authors and linked to Origin.
Receive the latest news & stay up to Date!