Melt in your Mouth: Chocolate Salted Caramel Cupcakes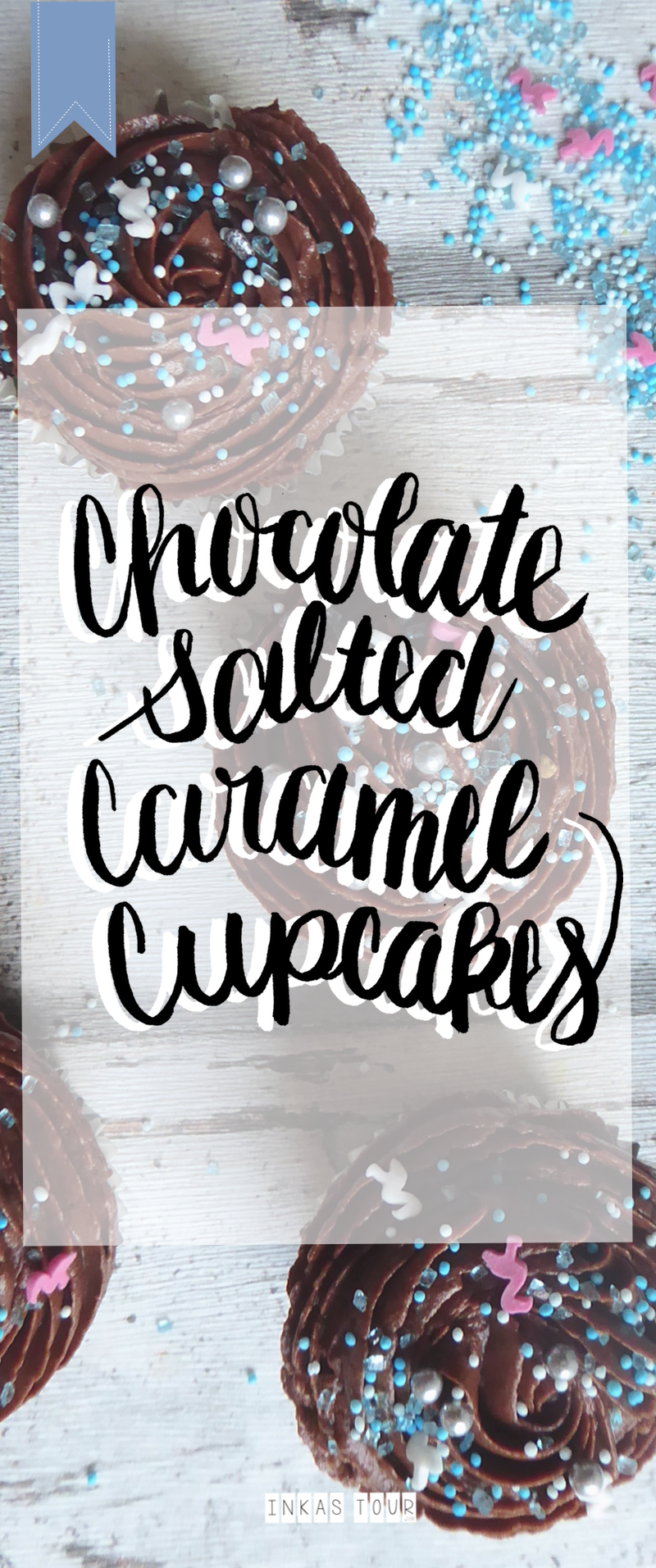 A divine combination of Chocolate Overload and the Salted Caramel. The Frosting will melt in your mouth type and the Salted Caramel is in perfect harmony with the Chocolate Cake-ness. A blissful joy with these Chocolate Salted Caramel Cupcakes.
Today we are not moving to a specific Country. Cupcakes are widely spread all over the World by now. But if we had to classify these and place them into a Catagory, it would be Space. Yes, Outer Space. Once you bite into these Cupcakes you will have an out of the World, taste explosion in your Mouth. So Space is only fitting. Then again the Sprinkle combination may just have something to do with these kinda strange and oddly weird destinations. But honestly who does not want to go to Space? If the flight whereas cheap as a flight from Europe to America, I'd be one of the first people to line up and get on that flight.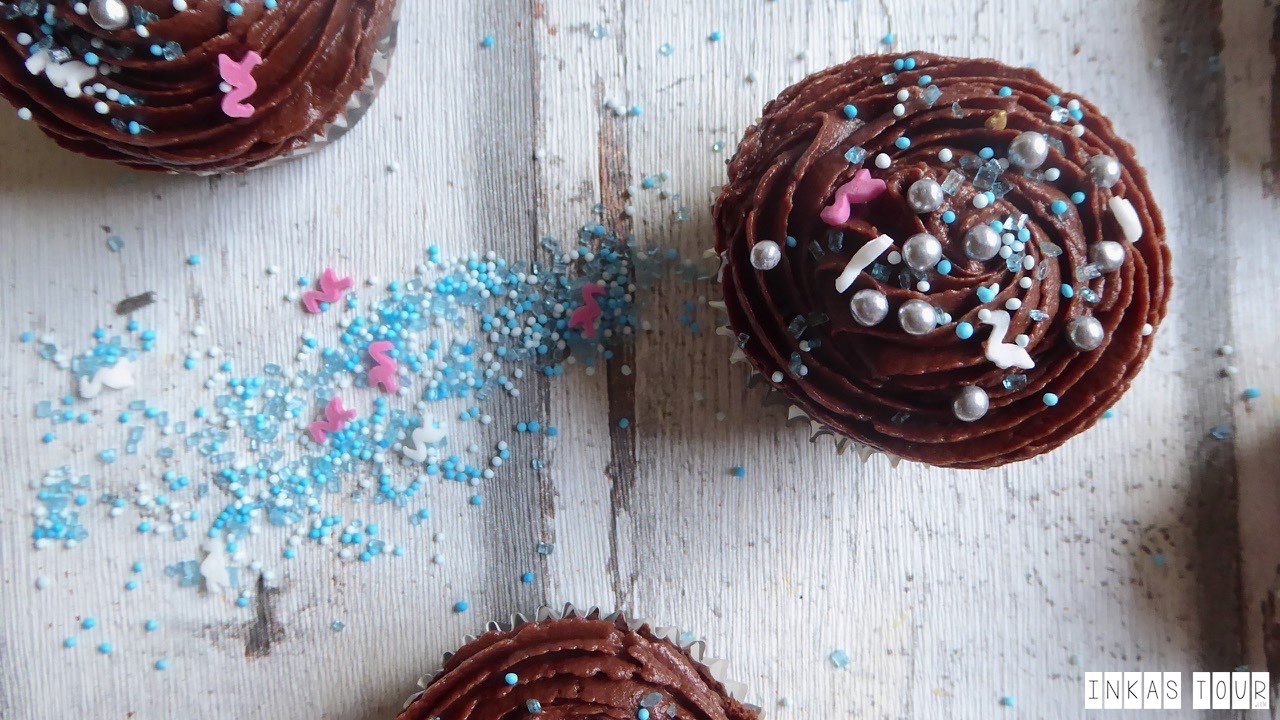 I do not know about you but, in all honesty, I love cupcakes, often better than a Cake. Because really let's face it Cupcakes are amazing, and they are mini – cake in all their glory and fun-ness. And it was time to try out some new sprinkles, but who really needs an excuse to add sprinkles.
Sprinkles just make life more colorful. And that is a Statement.
So in this context, I dub these Cupcakes – Flamingoes in Space.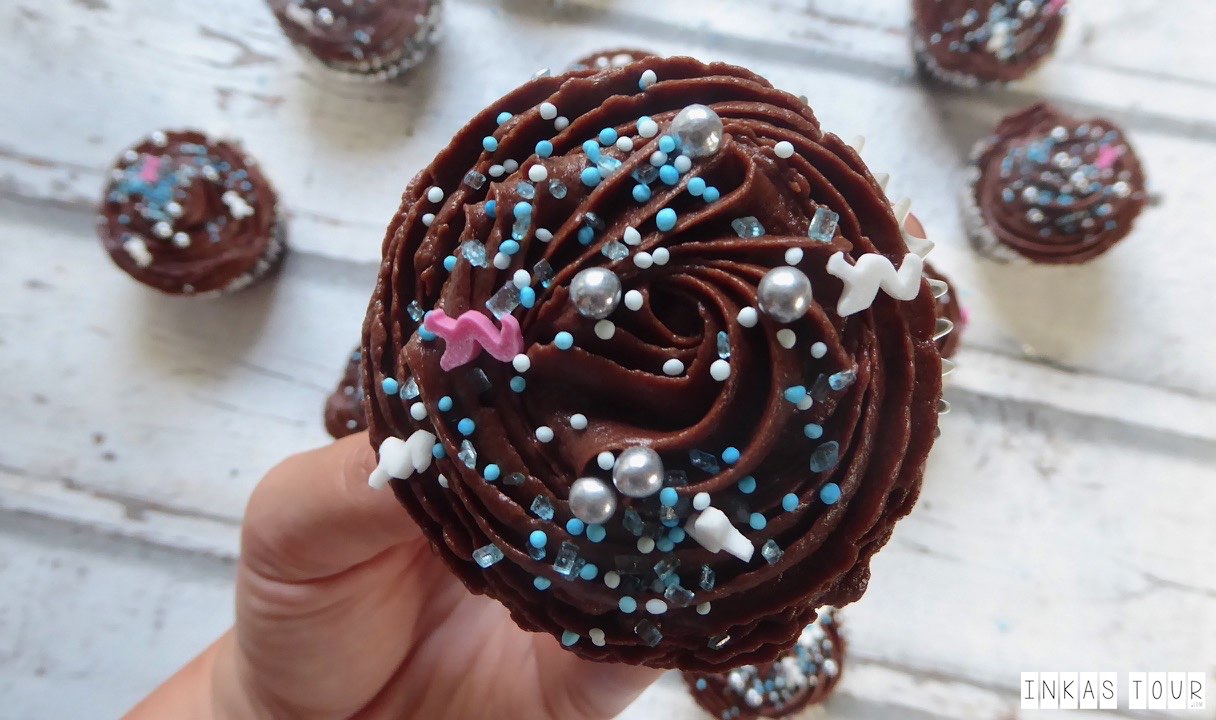 There is said it, why? And you may ask why Flamingoes in Space?
There are the moments when the opportunity strikes to find some good sprinkles on sale or as a special edition. In this case, both happened. Thank god Sprinkles don't really expire. That way even a Christmas Edition is still good in Summer, especially if they are like 45 cents for a whole pack. And this amazingly Blue Sprinkle mixture reminds me so much of Space. The perfect addition to those silver ball that just doesn't really have a use all that much, because let's be honest I think they are kind of ugly. Now the amazing and gorgeous Flamingos well they were special at a German Supermarket. Have you noticed that there is not Flamingo Emoji? Totally off topic but that is a statement.
So in a sense, I am saying that Sprinkles rule my life. Because they are epic amazing and Fun, all at the same time.
So Chocolate Salted Caramel Cupcakes are you excited about it because you know I am. I didn't think for some reason that this was a very good combination but it really was. Like Really Was. The Sweetness of the Chocolate and the Salted Caramel really are a good Combination.
Generally, I am not a chocolate person, but there are moments that you just want some Chocolate or have a craving for it regardless.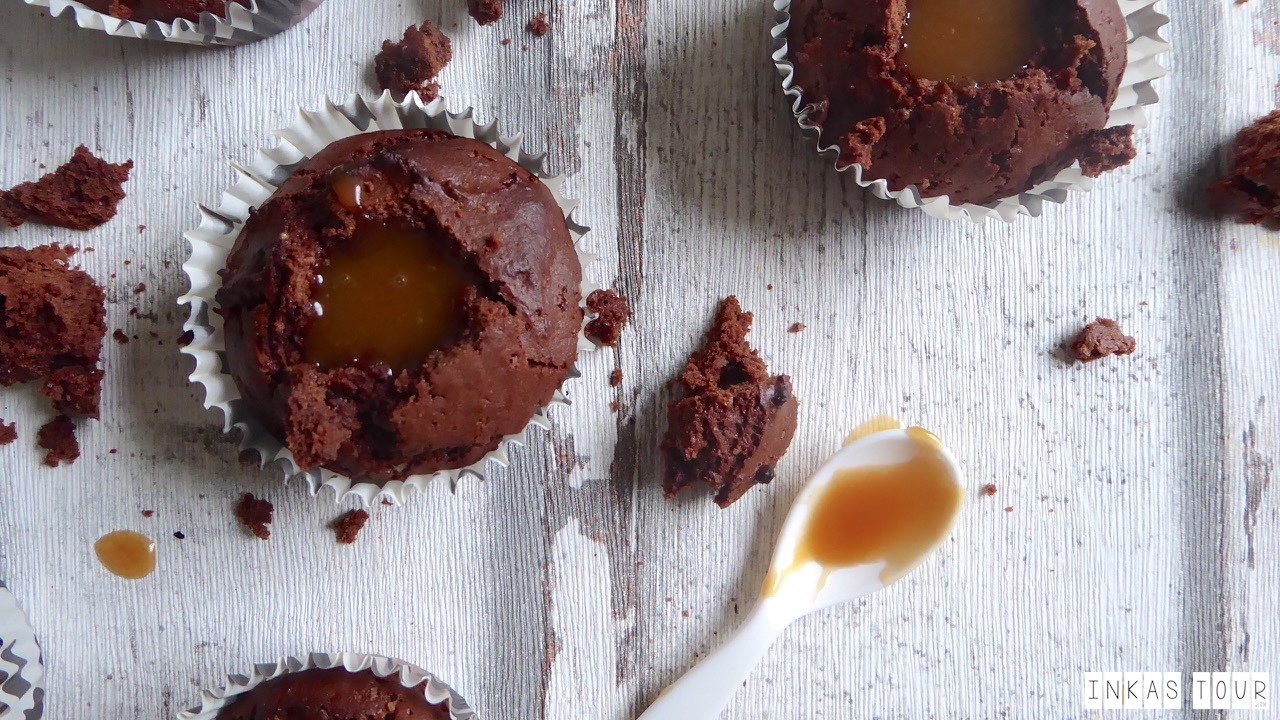 For the longest time I wanted to try the Salted Caramel from Sally, and boy did she not disappoint. This is amazing, like utterly divine. The best part is the rest you can just eat with Apples by the Bucket Load, especially like Granny Smith or any other kind of Sour Kind. Mixes so well with the sweets of the Salted Caramel. My new go-to Couch Food, healthy but not. The ultimate Perfect Combination.
Chocolate Salted Caramel Cupcakes
Ingredients:
Makes 9 Cupcakes
[su_table]
Dough :


65 g Melted Butter
60 g White Sugar
50 g Brown Sugar
1 Egg
65 ml Milk
1 TL Baking powder
165 g Sifted Flour
30 g Chocolate Powder

Salted Caramel:


200 g White Sugar
90 g Butter
120 ml Cream
1-2 TL Seasalt

Chocolate Frosting:


230g Butter
420g Icing Sugar
45g Chocolate Powder
45ml Heavy CreamA Sprinkle mixture if you so desire
[/su_table]
Instructions:
Preheat the oven to 180ºC. Line the Muffin Pan with Cupcake (Muffin) Liners.
Mix together Melted Butter, White Sugar, Brown Sugar, the Egg, and Milk, until a homogenous batter has been made.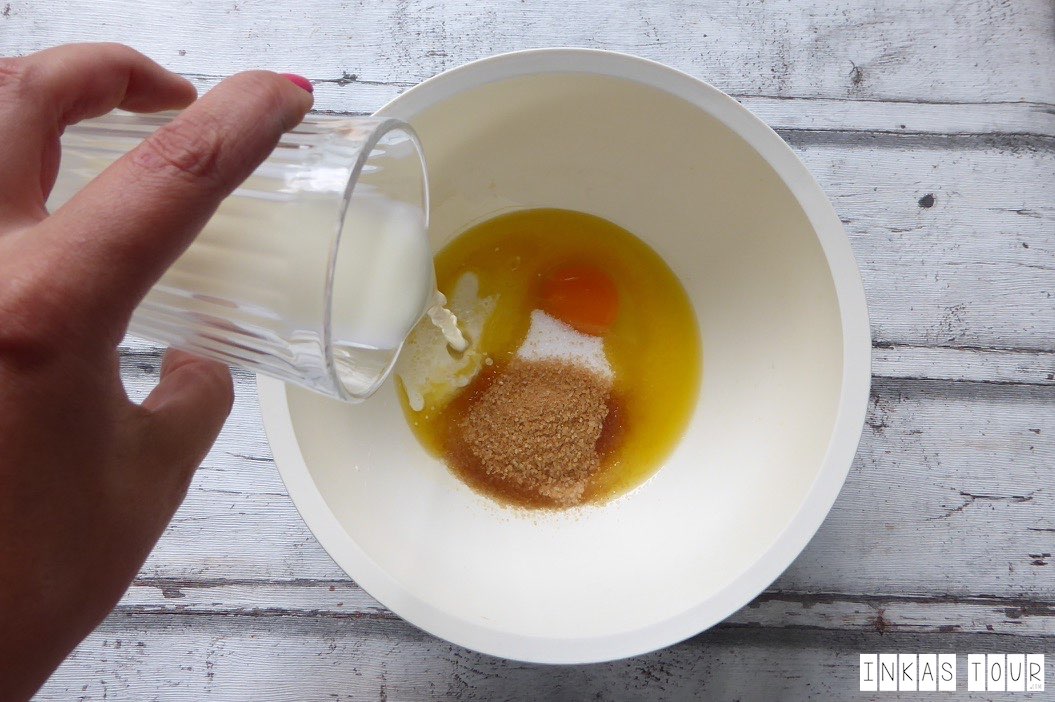 Add Flour, Baking powder and Chocolate Powder and mix well into a solid batter, with a Handmixer (or Standmixer)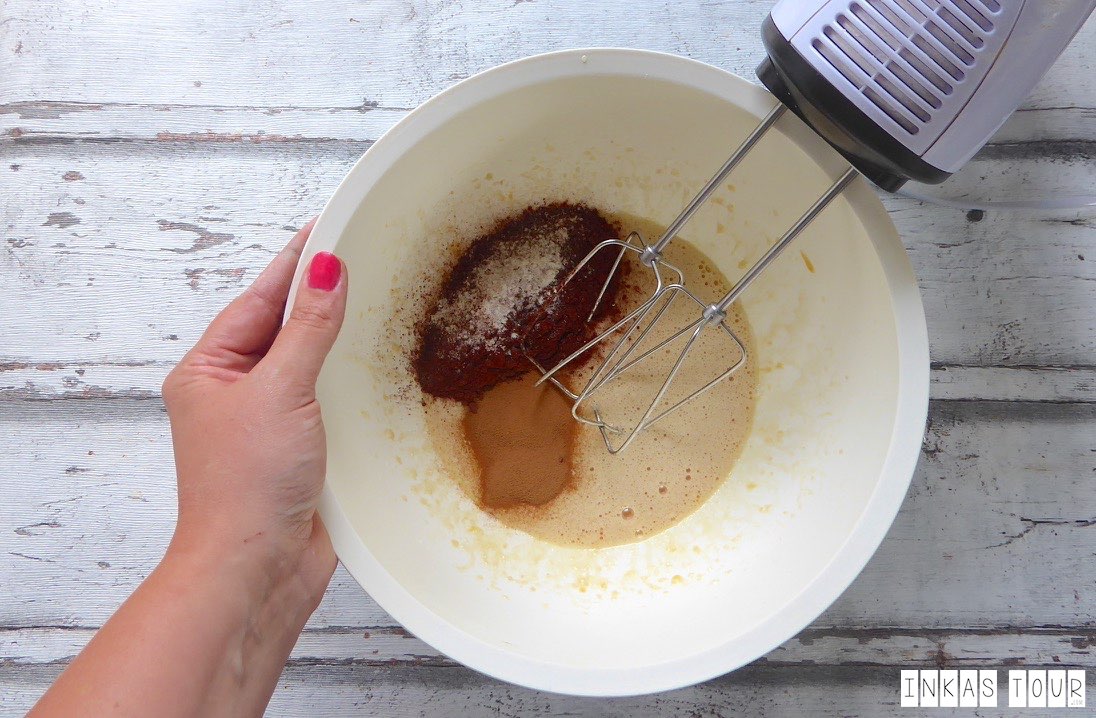 Fill one Tablespoon of the finished and well-mixed batter into each Cupcake Tin.
Bake for 15 minutes one baked let the Cupcakes cool off.
The Salted Caramel:
Pinpoints to consider before starting:
Measure out all ingredients first, before starting making the Salted Caramel. You will not have to this to measure out anything in-between steps.
This mixture will get extremely hot so be careful.
Throughout out whole process mix continually, otherwise, the mixture will stick to the Side of the pot.
 Do not use any Plastic Kitchen Supplies, Spatula or Whisk, the Plastic will melt in the Hot Mixture.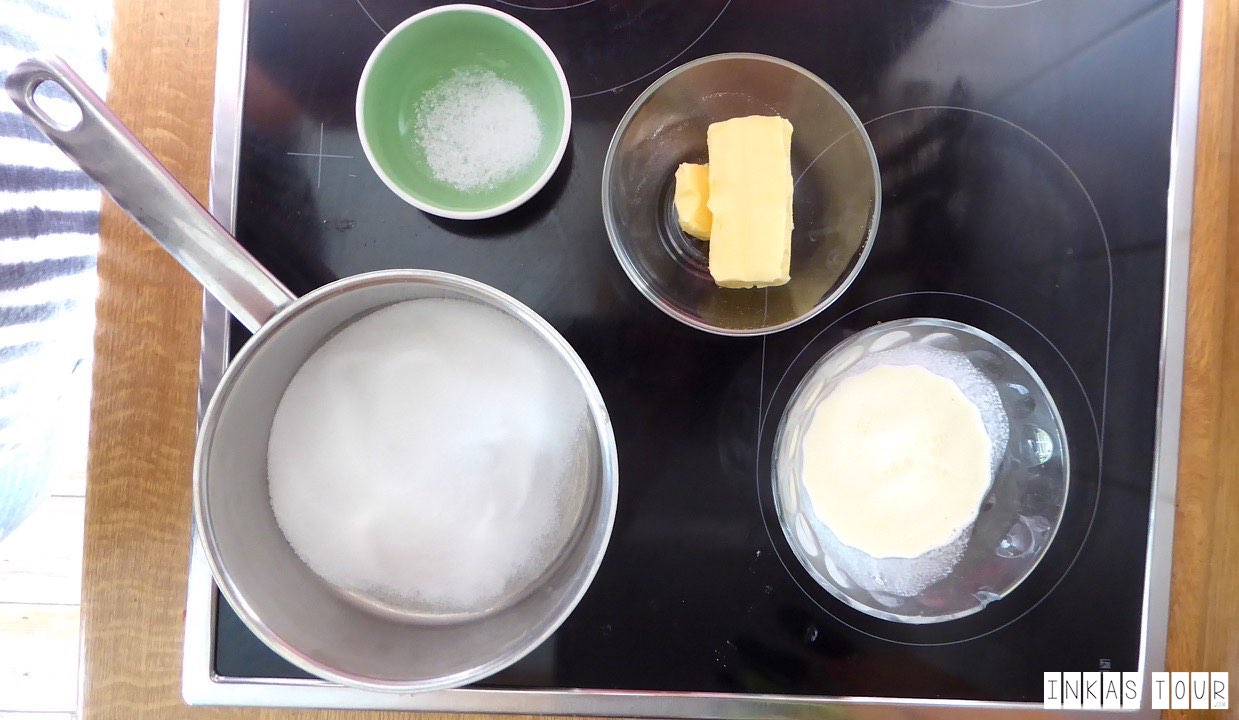 Pour the Sugar in a Pot and heat on medium, while stirring constantly, best is to use a wooden spoon. The Sugar should clump and turn an amber color. Once the sugar is fully melted add the Butter.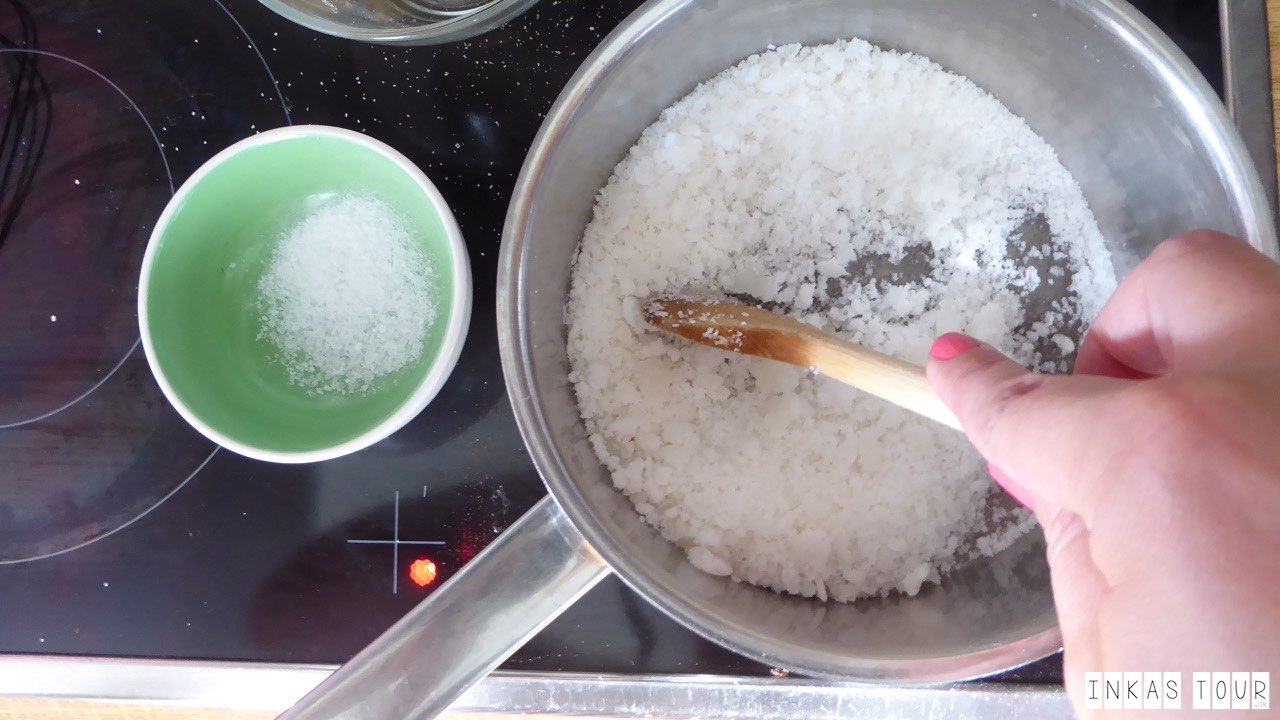 It will get very hot and bubbly very fast. Stir mixture until it is melted, around 2-3 minutes. A Whisk help in this process (do not use a plastic whisk it will melt, only use metal). Once the time has passed slowly drizzle in the Heavy Cream, and stir the whole time. Let the mixture Boil for about 4 minutes, all while constantly stirring. Remove from heat and stir in 1-2tsp Sea Salt, depending on your preference.
Let it cool completely.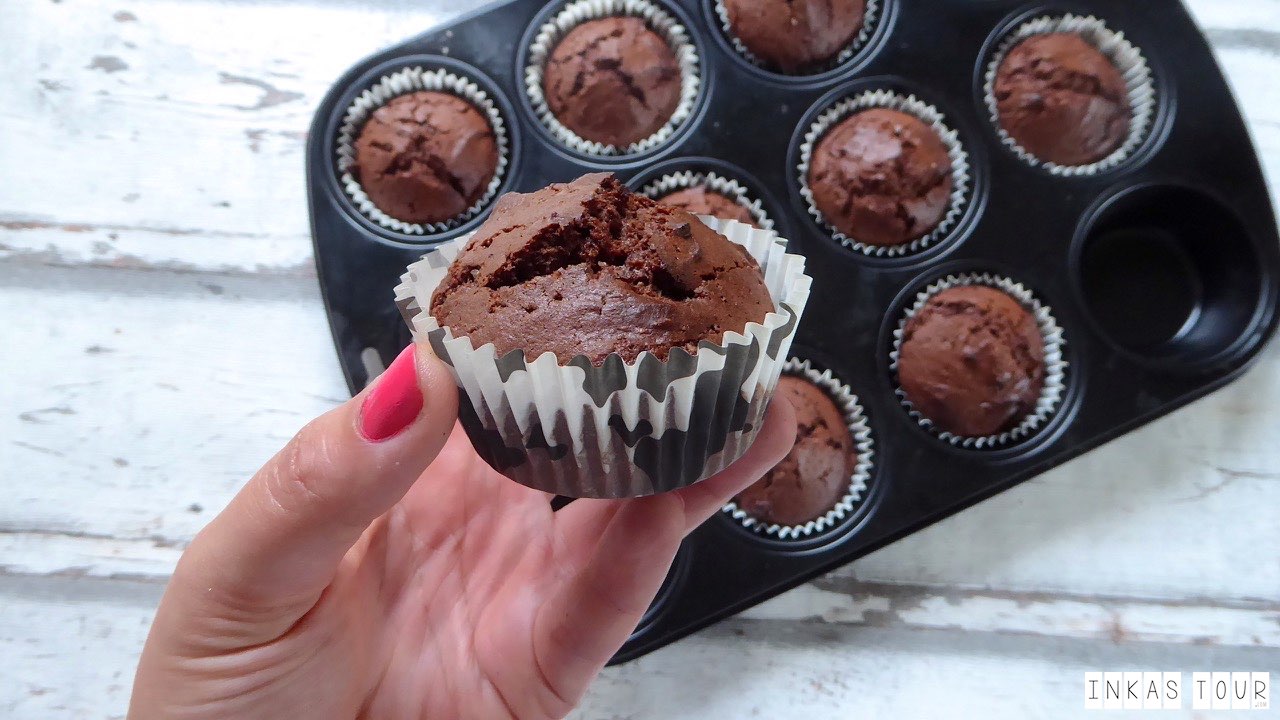 The Frosting:
Beat the butter until creamy, add in the SIFTED Icing Sugar, Chocolate Powder, Cream, Salt and 1tsp Vanilla Extract. Mix well. continue to mix until the consistency is nice and fluffy.  That's it super easy eh?
*Add a little bit more cream if you want it to be more of a softer Buttercream.
**Add more Icing Sugar if your Buttercream is too runny.
Assembling the Cupcakes to their full glory:
The Cooled Cupcakes are not ready to be filled with the gooey Salted Caramel. First cut out little cone shapes pieces, with a Knife, out of the Top of each Muffin.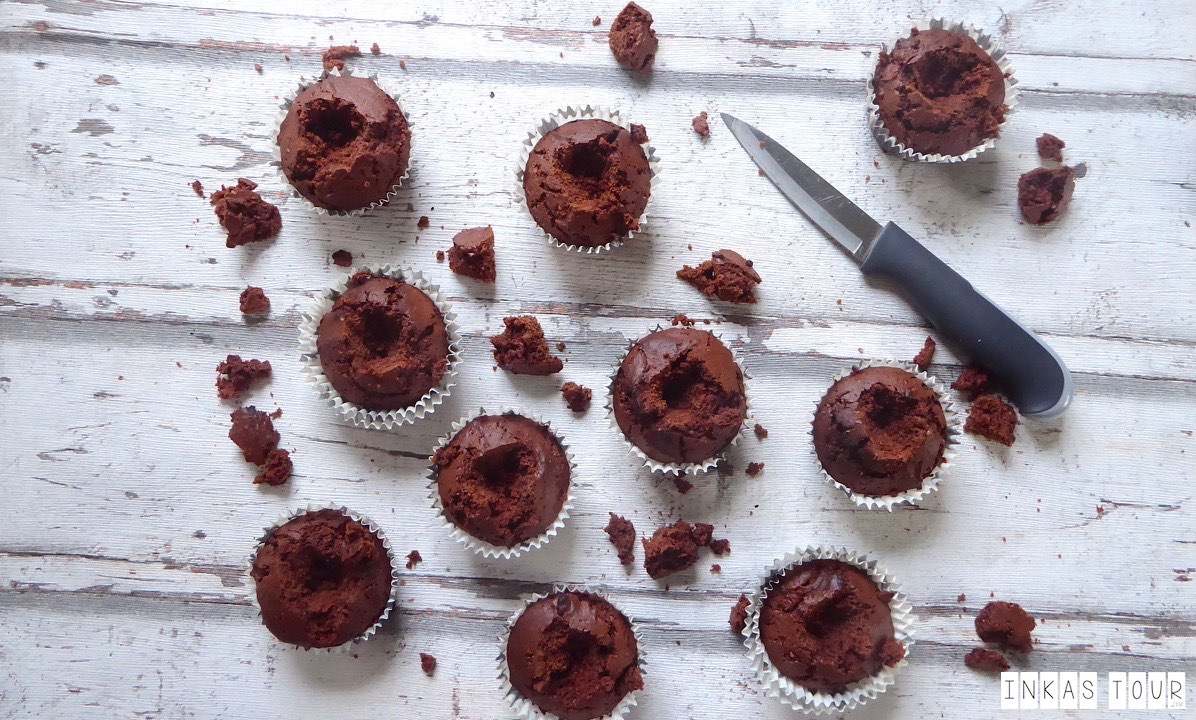 With a Teaspoon fill each of the holes with Salted Caramel. Then place the cones back on top. Don't worry if they won't fit you won't see it once the Frosting is on top.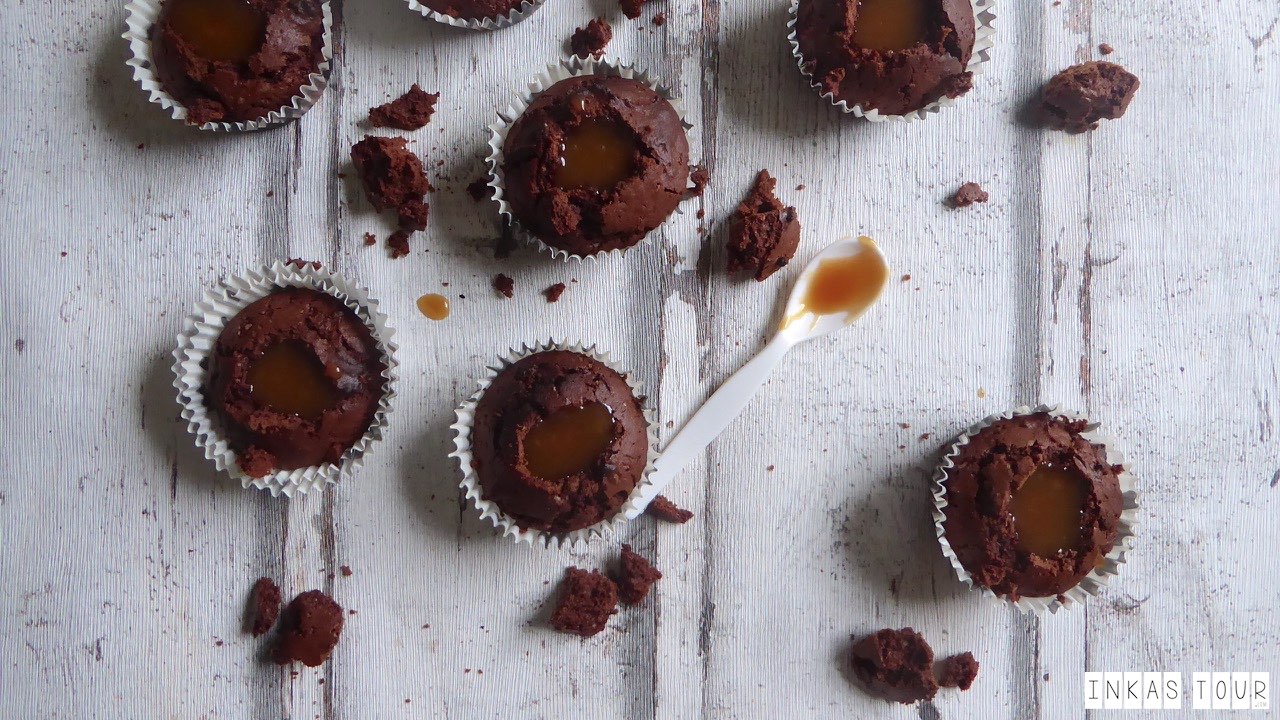 Next, take the prepared frosting and place it in a piping bag, I used an M1 tip in this recipe, to create the rose type swirl. In order to do this start in the middle and continuously go around in a circle.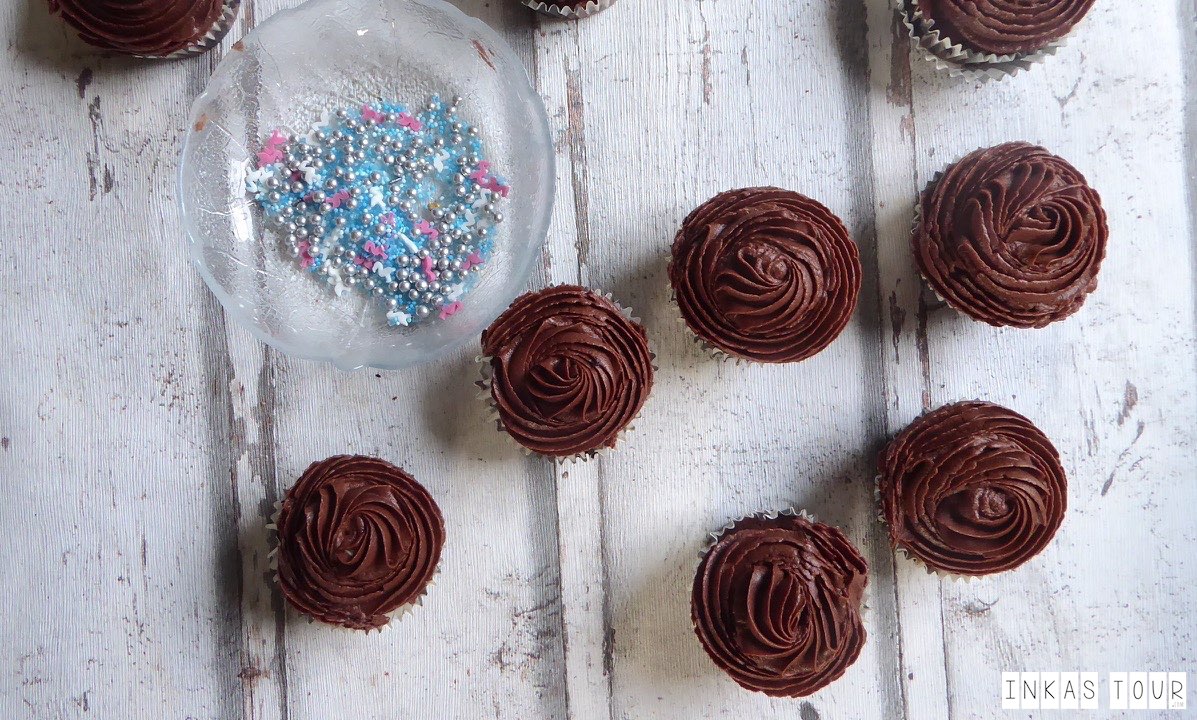 To decorate use your desired mix of Sprinkles. Maybe even some Flamingos Space Sprinkles?

Is this something you would bake? What would you call these Chocolate Salted Caramel Cupcakes as their second name?
SaveSave
SaveSave
---
All content, pictures Copyright © 2015 by InkasTour.com • All Rights Reserved. All other content is copyrighted by the respective authors and linked to Origin.
Receive the latest news & stay up to Date!