Finland Moomin Cookies – Sugar Cookie Recipe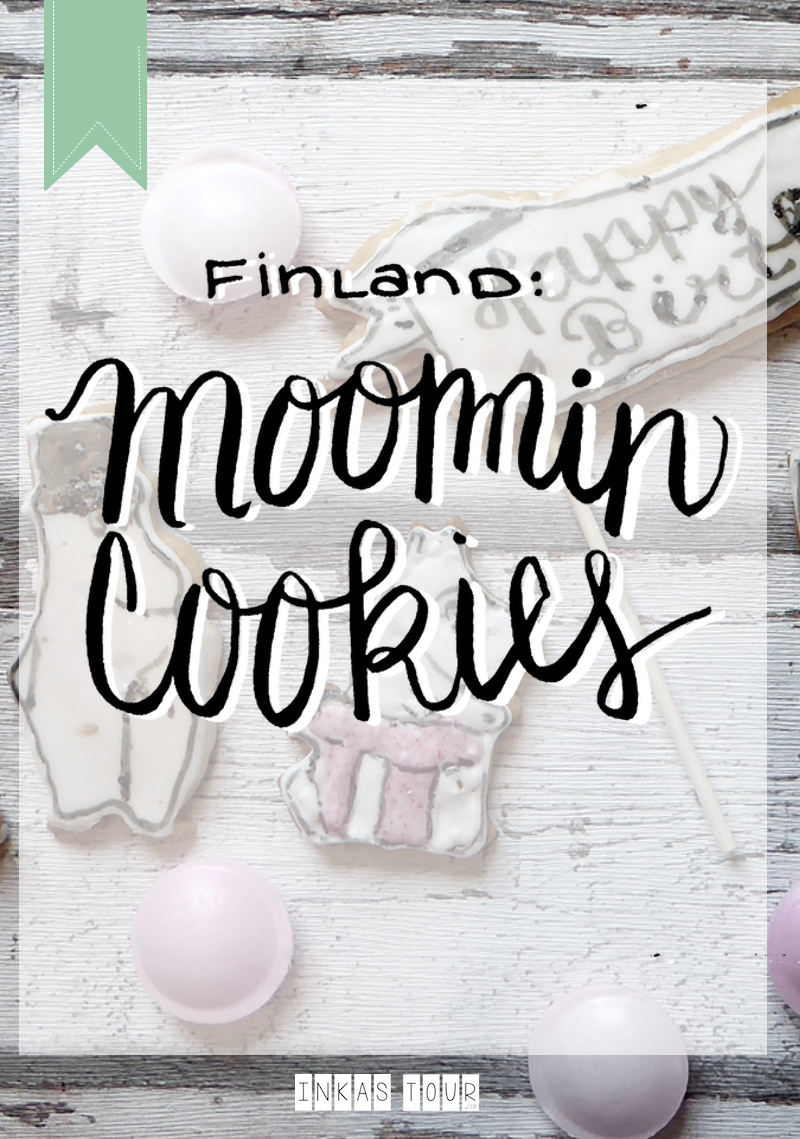 Sometimes we need a little something fun to bring back from our Travels, that is small but bring a lot of memories, besides it is nice to share with the people we love at Home. They may either hate us or love us for this. A Recipe or these Cute Cookie Cutters are a perfect solution to this problem, and a great reason to make some MOOMINS with this Sugar Cookie Recipe..
I personally think that the Moomins are super cute, while my Mom just can't understand the cuteness in them. But too bad for her Luck she had to suffer through the Moon Cookies. I know deep down they grew on her a little bit and she saccutally really liked this Moomin. You can of course use any other Cookie Cutter if Moomins are not your style, like my Mom.
Now please tell me you know who and what the Moomin's are?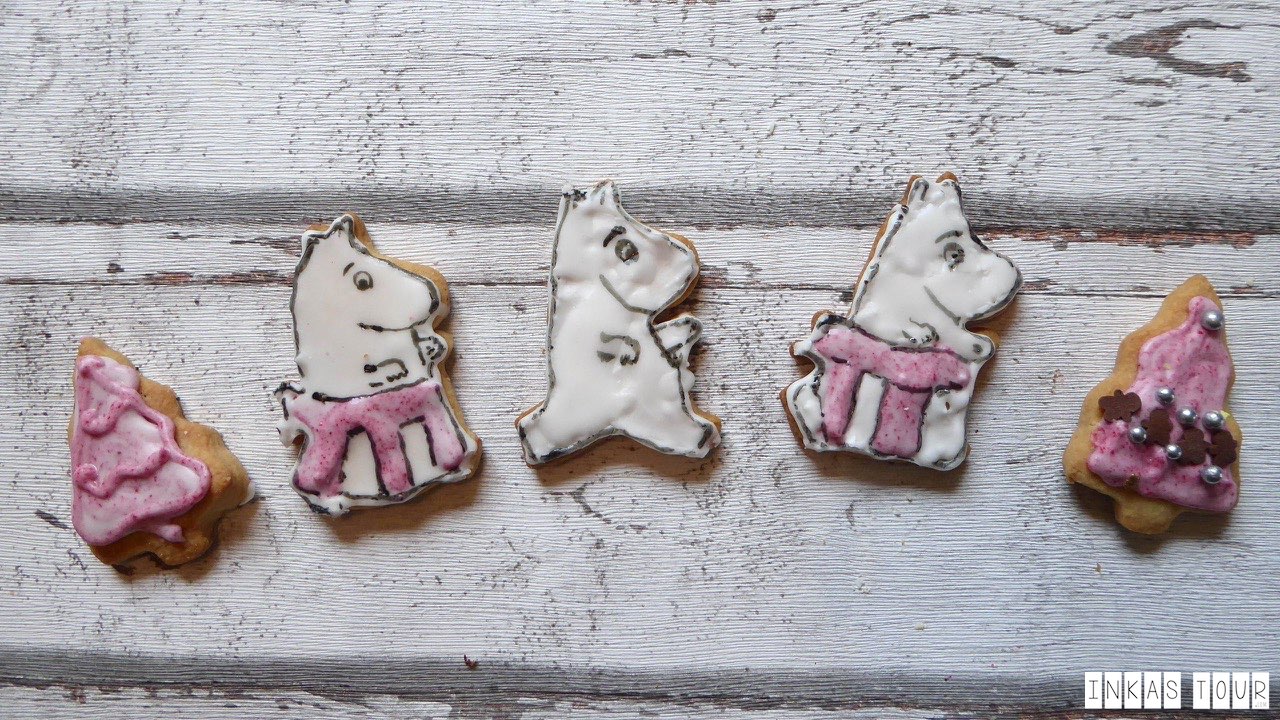 Maybe you remember them from your Childhood? Well if you were an 80's or early 90's Baby you probably would. Now I did not have a Tv growing up, but I feel like it was one of those Characters that you just knew. Then again how many TV Characters where there in the early 90's compared to now. It was a lot easier to get noticed and recognized and be known.
What to refresh you memory? Check out the Theme – Song and you'll soon be dancing away.
[su_youtube url="https://www.youtube.com/watch?v=BO7fV62Gt1U"]
Sometimes we just need something to cheer us up in Life and to make us Happy and Smile, to feel naive and innocent. Those are the feelings what Tove Jansson, though while writing the first Moon Book during WWII which was published in 1945. She was a Swedish – speaking Finnish Author and Illustrator living in Finland.
Her following five Moomin books, where great success that she became Finlands most read Author abroad. The books were first published in Swedish which adds to some confusion as to where they originate, but as a minor of Swedish speakers, it makes sense to write in your native language. However, I don't think this minored the affect the MOOMIN's had. In the 1990's the story of the Moomins was turned into an anime television show, which first aired in Tokyo in April 1990. Making it even more successful, and fill many children's heart around the world.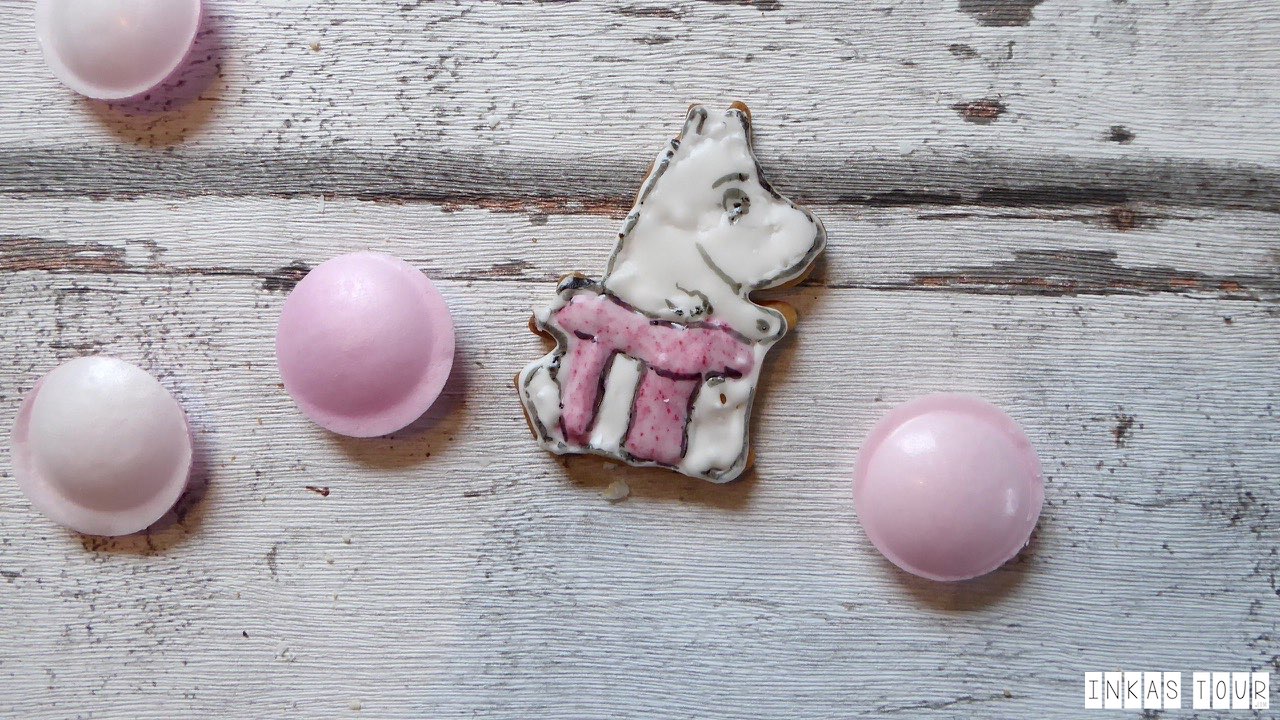 Today I feel like the Moomins are still an Icon of Finland. You can find the Moomins, on cups, plates, and Boiling Kettles. And of course, Cookie Cutters to make these amazing Moomin Sugar Cookie Recipe. What better fun way to bring something back?
But not that the short History Lesson is over, lets start baking.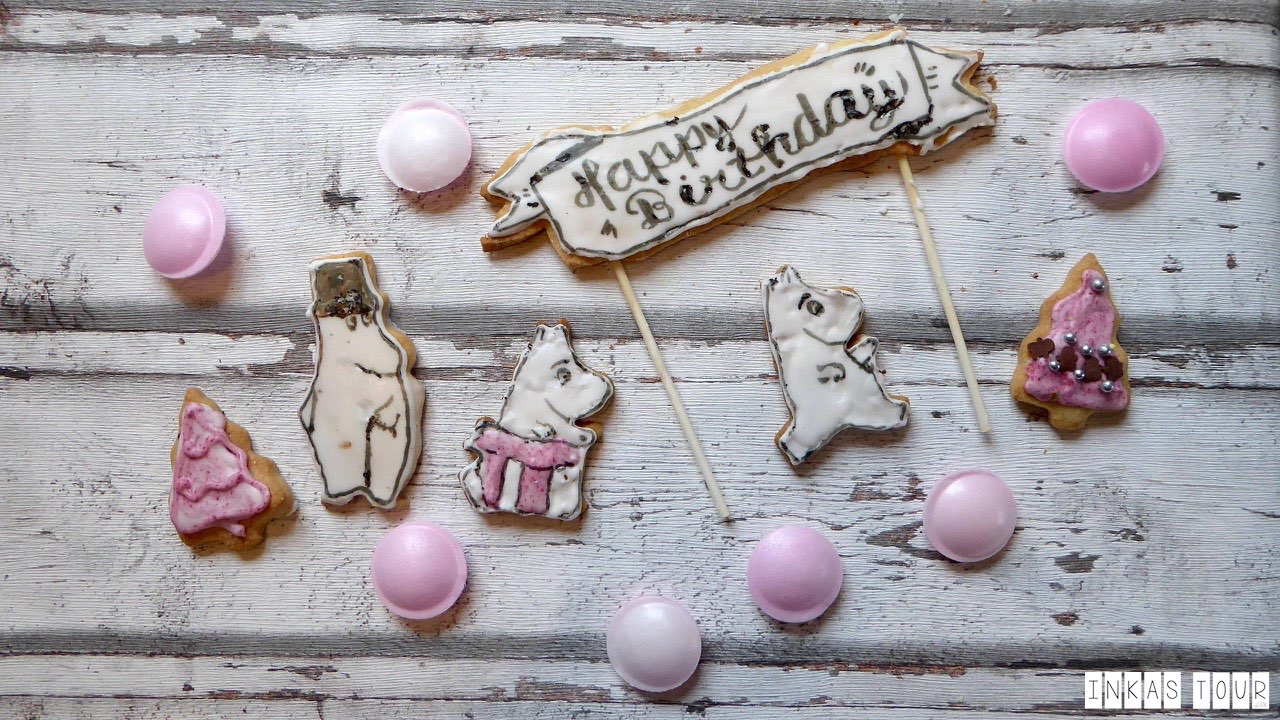 Moomin Sugar Cookie Recipe
Ingredients:
Dough:
150 g Flour
100 g Butter
50 g White Sugar
1 Egg
Zest of half a Lemon
Royal Icing:
500 g Icing Sugar
2 medium Size Egg (only Eggwhites)
1TL Lemon Juice
1tsp Dried Raspberry Powder
The how to Step by Step:
Cut the Cold Butter into Cubes and Mix with the Sugar using a hand mixer, add the Egg and mix together. Sift in the Flour, bit by bit and knead well into a solid Ball.
Chill the Dough for half an hour.
In the meantime: Line your Baking tray with some parchment paper, and pre-heat your oven to 180ºC.
Once chilled, Sprinkle some Flour onto your Counter and roll out the Dough using a Rolling Pin.
Take your cookie Cutters and cut out your Moomins. Place them on the Baking Tray and bake for 10-15 min (depending on your oven).
Let them Cool Down Completly before you decorate them.
Making the Royal Icing:
Sift the Icing Sugar into a Bowl. Add the Eggwhites and mix 6-7 minutes with a hand mixer (around 5 minutes with a Kitchen Maschine). Add the Lemon Juice and mix for another 2-3 minutes, Peaks are forming.
This Mixture will be quite thick. You will want it in a medium thickness. (We will test this in the new Step)
Fill the Mixture into an Icing Bag (or a Zip Lock Bag) and Cut the corner, so you get a small hole. On an extra piece of Parchment Paper test if you can easily draw a line, while not having to squeeze the bag too hard, and the Mixture stays in Form.
If you can check out all of these Points, you are ready to draw the Contouring Lines of you Moomins, and any details you might want to add, like the skirt of the Mom. For each color section make contours.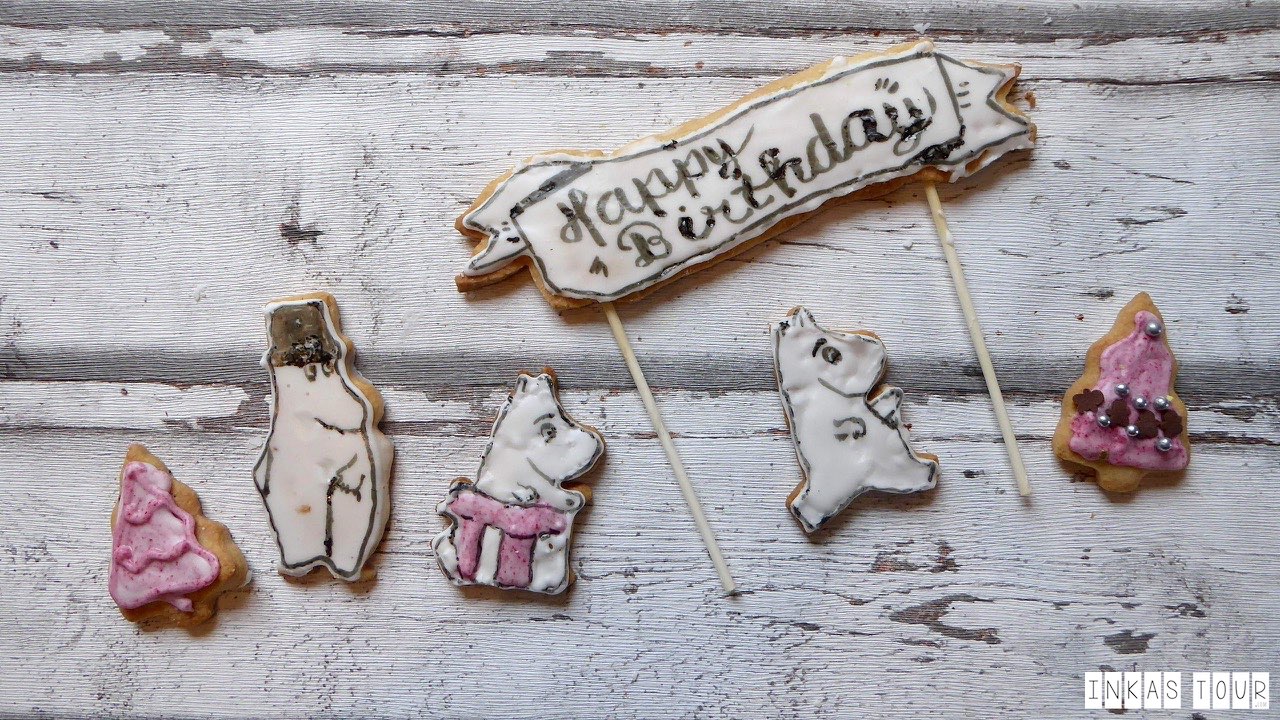 We do this so the Icing stays in place, and does not run off later.
Once you have finished, place the remainder on the side, we will still be using this and Let the contours dry, this should be fairly quick.
In order to fill the Contours, you want your Royal Icing to be more liquid.
We are keeping the Icing in the Bag for the next step. Add 1-2 TL Of Water. Be careful with this, one Spoon at a time. It should be Runny, but not too Runny, in a liquid state. Yes, this can be done in the bag, just mix it carefully.
Fill in the White Parts, within the Contours you have created. Once you have done that take your Raspberry Powder to mix the Pink Color of Mama Moomins Apron, YES again right in the Bag. Fill the in the Stripes of the Apron.
Once again let the Moomin Family Dry. This may take up to 45min – 1 hour.
For the Black contours I used the Brushpen from PME*
, it'd edible ink. It has a Marker Side and a Brush Pens Side. I was really easy to use and really cool.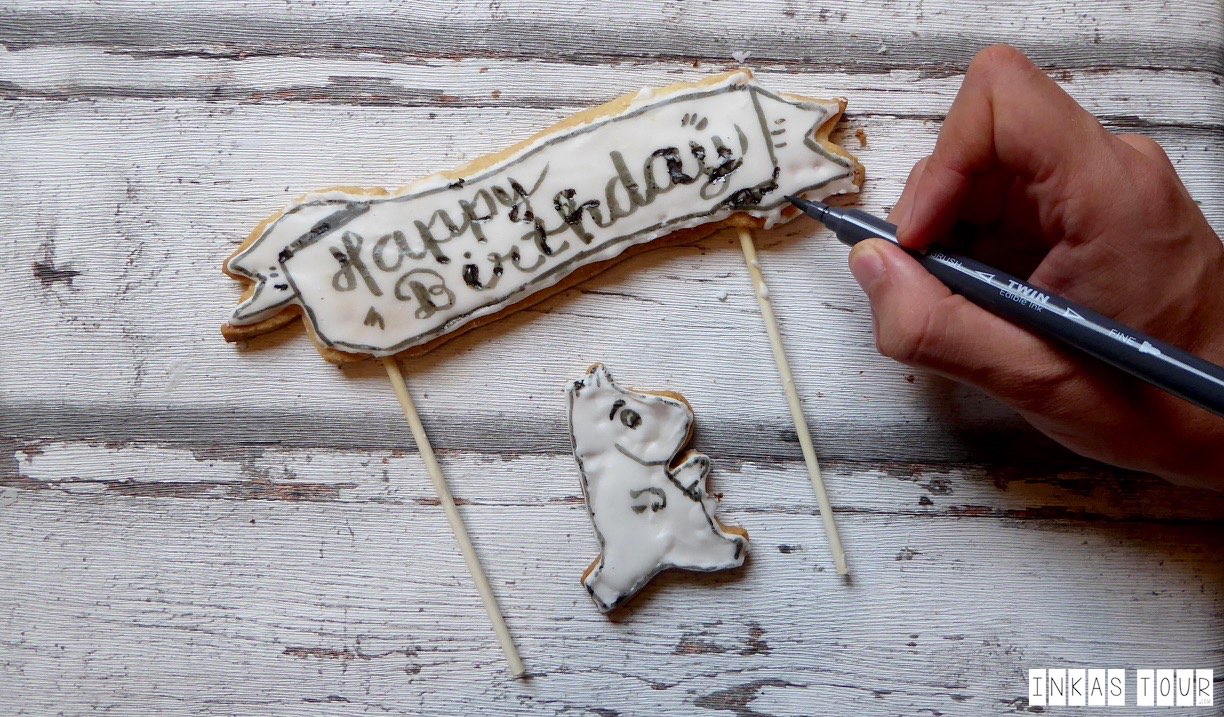 I got to say these Cookies are just so much fun and easy and cute. You can even use this Moomin Sugar Cookie Recipe and turn them into Cake toppers and they look Fantastic and kinda cute. Creating your own Moomin World.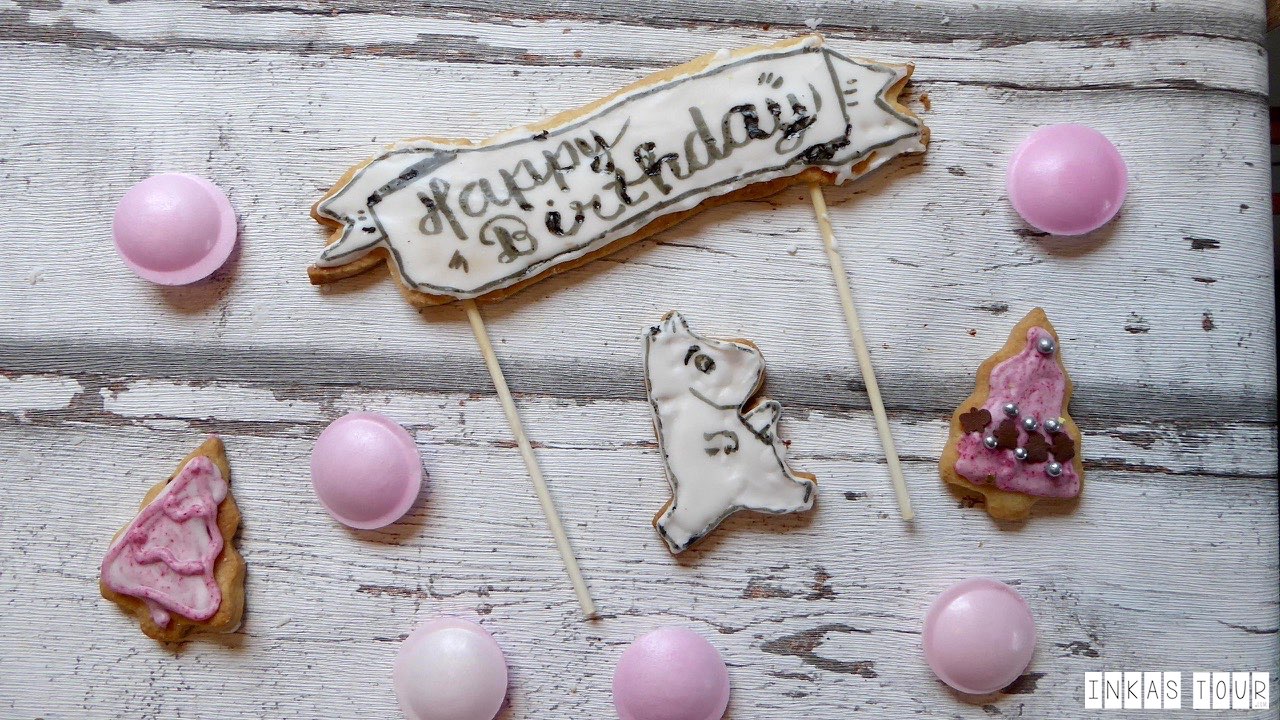 This was the Birthday Cake for my Brother who turned 19, there are divine Advantages of being the older Sister you can make Cakes like this for your Siblings and they just know they can't do much about it because in your eyes they will always be the younger Sibling.
Let me know below how you feel about the Moomin Sugar Cookie Recipe? Do they get Love or Hate?
---
All content, pictures Copyright © 2015 by InkasTour.com • All Rights Reserved. All other content is copyrighted by the respective authors and linked to Origin.
Receive the latest news & stay up to Date!