Melt in your Mouth Caramel Chocolate Cookies
I really wanted some Cookies … at the moment I am definitely in Cookie Craving Heaven. Looking in the Pantry it turned out it was gonna be some Caramel Chocolate Cookies. I honestly think it is because of the Weather. Cookies and Summer generally don't mix for me or at least never seam to be on the top of my List. I like to have a few cookies on hand, and homemade are better than store bought. Cookies are great especially when it's rainy and ugly outside. Then I love to have a cookie or two with my cup of Joe in the Afternoon. And because it would be totally boring to always have the same cookies well I do like to experiment a little, and I had to make a new batch today.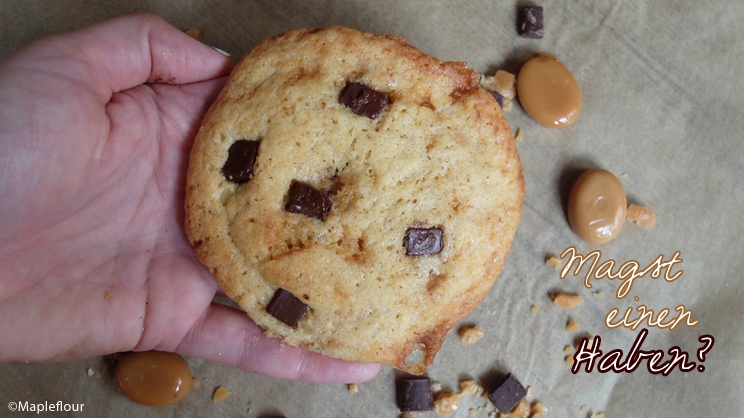 The Caramel Cream Candies melt with the heat of the Oven, the Chocoalte Chip Cookies are just soft enough and the Peanut Butter is present just enough to be able to taste ist. A devine combination!

These Caramel Chocolate Cookies are like the BOMB (can I say that?)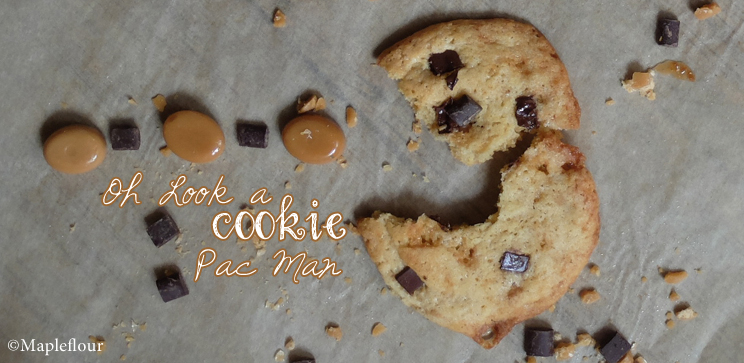 Caramel Chocolate Cookies
Zutaten:
200g Butter
100g White Sugar
100g Braun Sugar
25g Peanut Butter
200 Flour
1TL Baking Powder
20Stk. Caramel Cream Candies
40g Chocolate Chips (roughly 5 Chips per Cookie)
Preheat the Oven to 190ºC.
Mix Butter, White & Braun Sugar as well as the Peanut Butter until creamy. Add the Flour and Baking powder. Crush the Caramel Candies (by placing them in a Bag and using a rolling pin to  break them up). And Mix under the Mixture/Dough. From the Finished Dough, form 24 Balls (about 4cm wide) and place on a lined Baking tray with a distance of about 5cm between each Ball. Repeat by making 24 smaller Balls (about 2cm wide), and placing these on the larger Balls making mini snowman's. Insert about 5 Choocolate Chips into every Snowman.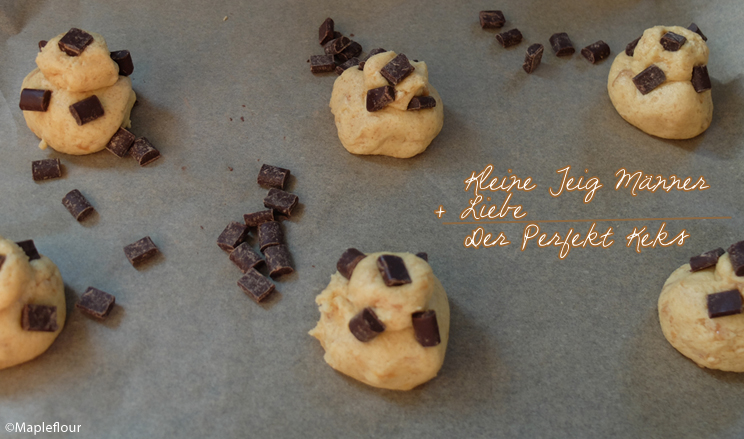 Bake the Cookies for about 1-15 minuted until the Cookies are golden Braun. Because of our Snowman's the Cookies are not perfectly round. Or at least almost!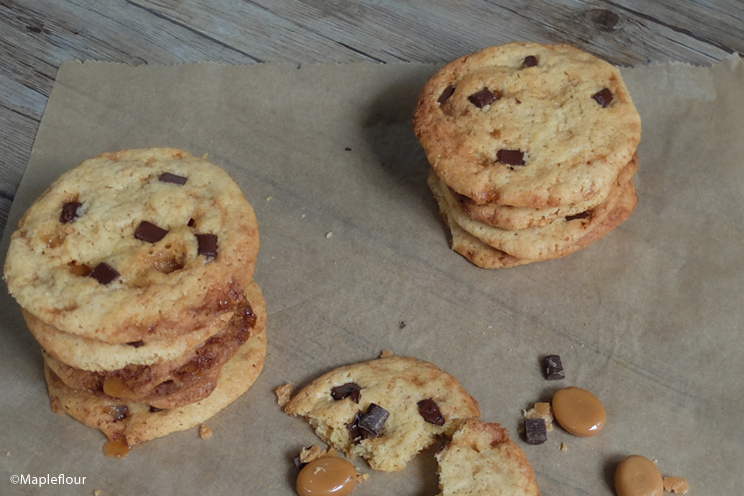 You really should try these Caramel Chocolate Cookies! Let me know what you think?
---
All content, pictures Copyright © 2015 by InkasTour.com • All Rights Reserved. All other content is copyrighted by the respective authors and linked to Origin.
Receive the latest news & stay up to Date!