Banana Chocolate Bomb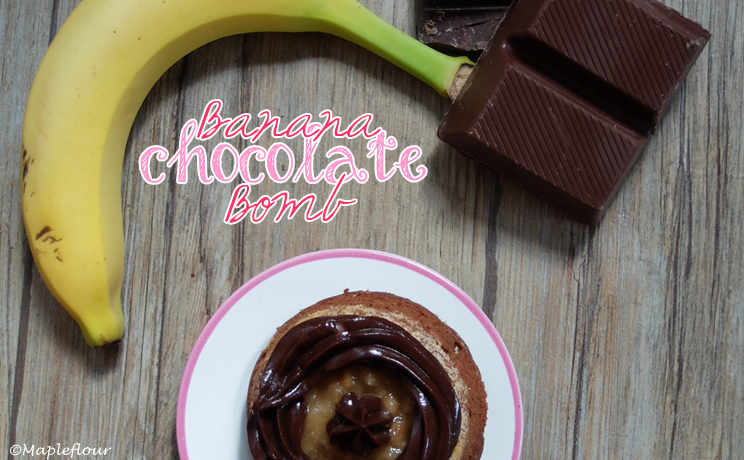 What can there be better than Banana and Chocolate together in one combination. Today this will be short, cute and yeah a small whimsical Cake. (It's one of those Baked Delights when I just gotta happen fast and be fast to make, one of many out there.)
Was gibt es besseres als Banane und Schokolade? Und das in Kombination. Heute habe ich mal etwas ganz süsses und auch witziges aber doch leichtes Küchlein. (Wenn es mal schnell gehen muss ich das auf jeden fall eine (von vielen) Varianten.)
A quick Desert, for a Weekday when there is not much time. However that does not mean it doesn't taste good cause that would be an understatement. I think you will understand once you made this? Chocolate and Banana a deadly combination.
Ein schneller Nachtisch besonders unter der Woche. An den Tagen wo nicht so viel Zeit ist, doch das soll nicht heissen das es nicht schmeckt denn ich bin von Gegenteil überzeug. Und ich denke Du bald auch. Schokolade und Banane eine tödliche Kombination.

And the best are these facts I found, makes it just so much better at once. Who would have thought?
Und das beste sind noch folgende Facten, es macht alles noch besser. Wer hätte das gedacht ?
The smell of chocolate increases theta brain waves, which trigger relaxation and Eating dark chocolate every day reduces the risk of heart disease by 1/3.
Der Geruch von Schokolade steigert die theta Hirnströme, was der Auslöser für Entspannung beeinflusst und jemand der jeden Tag Schokolade isst kann das Risiko von Herz Krankheit und 1/3 verkleinern.
Bananas don't actually grow on trees—they grow on plants that are classifies as Herbs, so yes Bananas are Berries. Bananas are low in calories and have no fat. They contain vitamin C, potassium, fiber, and vitamin B6.
Bananen wachs nicht am Bäumen – sie wachsen an Pflanzen die Klassifiziert sind als Kräuter, also ja Bananen sind Beeren. Banana sind Kalorienarm habe kein fett. Sie beinhalten Vitamin C, Kalium, Ballaststoffe und Vitamin B6.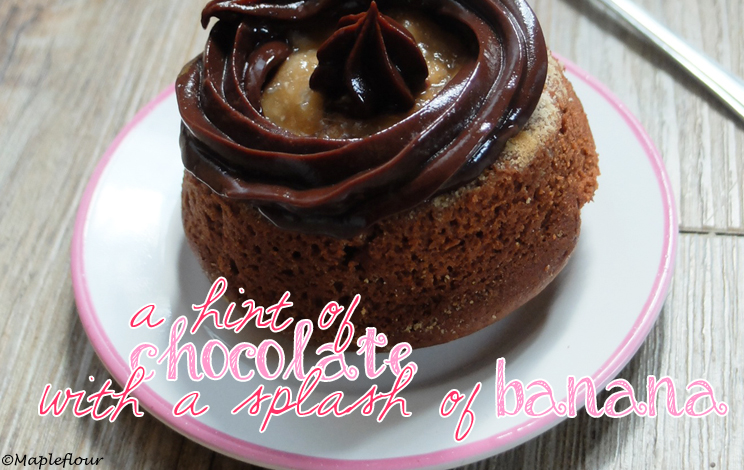 Schoko
Banana
Bombs
Für 6 Stück.
Zutaten:
65 g Butter
113 g Zucker
3 EL  Apfelmuß
65 ml Milch
5ml Kakaopulver
1 TL Backpulver
167 g Mehl
1 Reife Banane
Für die Schoko Creme:
100g Vollmilch Schokolade – gehackt
100g Zartbitter Schokolade – gehackt
1/2 TL Honig
1/2 Butter
Den Backofen auf 180 grad vorheizen. Preheat the oven
Die Butter schmelzen und mit dem Zucker, Apfelmus und 55 ml Milch mischen. Die Restliche Milch mit dem Kakaopulver mischen, und ebenfalls zu der Masse hinzufügen. So entsteht das der Kakao gleichmässig im Teig verteilt ist und keine Klümpchen verteilt sind. Das Mehl mit dem Backpulver mischen und zu den "flüssigen" Zutaten mischen. Dieses geht am schnellstem mit dem Rührgerät allerdings würde es auch mit dem Klassischen Schneebesen ohne Probleme funktionieren. In 6 Törtchen formen füllen (wer nicht weiss was ich meine hier lang …. zu meinen Mini Formen). Das ganze ca. 15 Minuten backen.
In der Zwischenzeit: Die Banane mit einer Gabel zerquetschen. Und an die Seite Stellen. Sahne in einen Topf erhitzen, Schokolade, Butter und Honig hinzufügen und schmelzen und langsam rühren ca. 3 Minuten. Von der Temperatur nehmen.
Die Törtchen ein wenig abkühlen lassen, Bananen Mark in die Mitte des Törtchen füllen und Schoko Creme mit eine Spritzbeutel auf den Rand spritzen.
Es ist am besten Lauwarm zu geniessen und schmilzt die Schokolade zu einem waren Geschmacks Erlebnis im Mund zusammen mit der Banane.
Liebe Schokoladenfee ich schicke die dieses Rezept zu deinem Schokoladen-Event: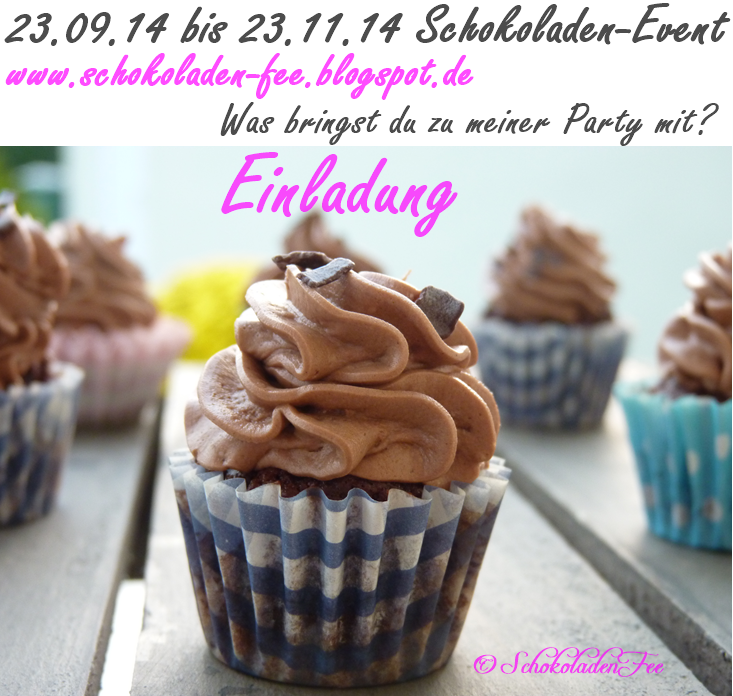 The Recipies are only written in German (for now), if you would like some help translating them in an English version please feel free to contact  me I would be more than happy to help.
---
All content, pictures Copyright © 2015 by InkasTour.com • All Rights Reserved. All other content is copyrighted by the respective authors and linked to Origin.
Receive the latest news & stay up to Date!