Hooker Valley Track in Mount Cook / Aoraki National Park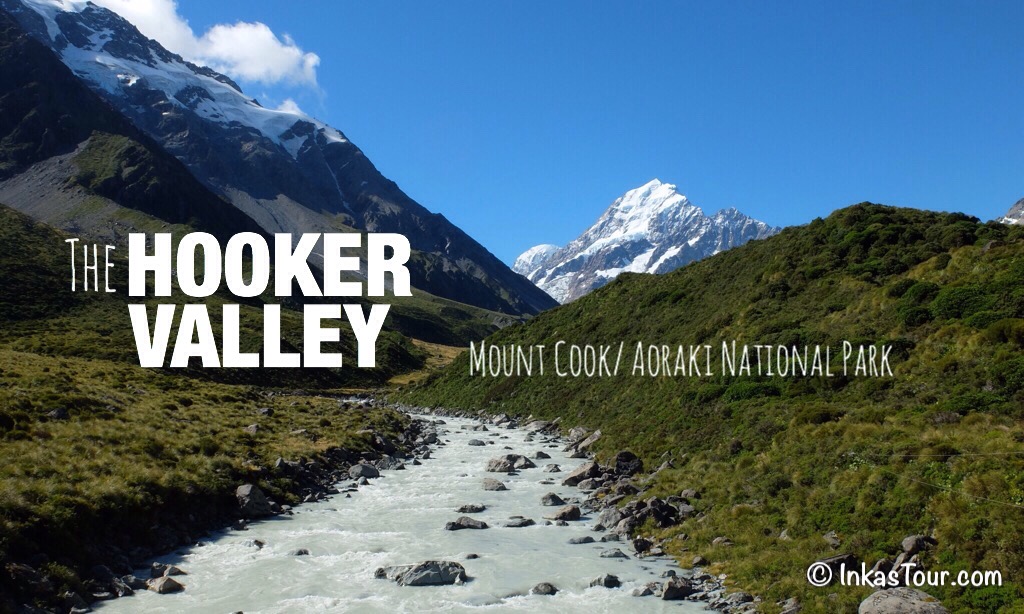 No this is not where Hookers live, or will you find any! It is however one of the easiest, most spectacular and popular walks in the Mount Cook National Park, maybe even one of the best Walks in all of New Zealand. Welcome to the Hooker Valley Track!
Sometimes I don't know if all of the is quite real, because really these Mountains have a certain amount of calm and amazement that come with them, and even though they are large pieces of Rock they look different every time, I look at them.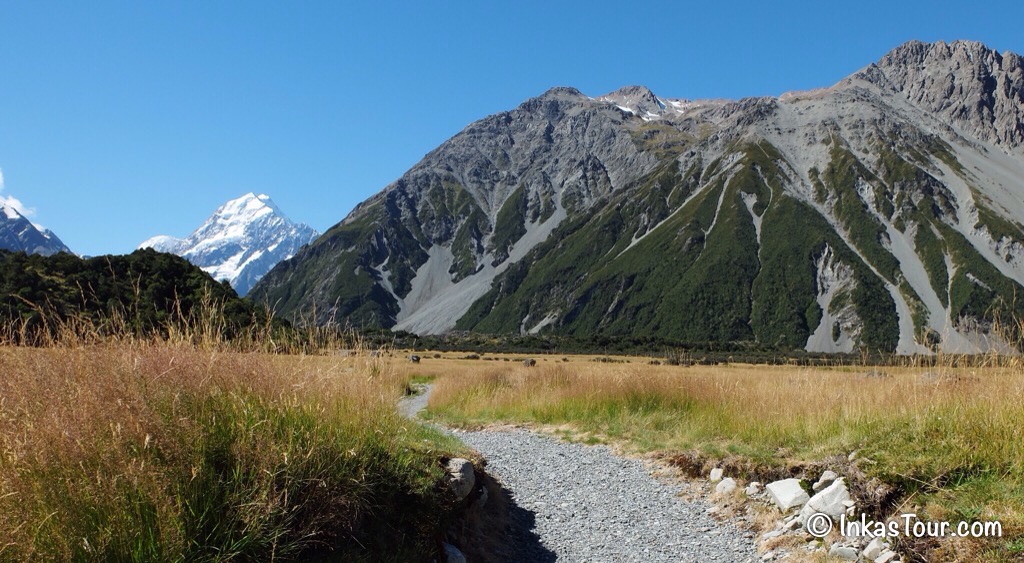 When I first started exploring the Mount Cook National Park, I believed that Hooker Valley Track would be a challenging Walk. Even though some walks are classified as easy in New Zealand there is a lot of up and down. And sometimes I do like to believe I am not the fittest person. Wait that is not even a lie I really am not. But I do believe in Challenging myself once in a while.
No matter how challenging, long or short a Walk is, always bring some Water and a Snack. Now this is the result of having a Snack on the Trail, attempting to take a Selfie and positioning the jawdropping Landscape Behind.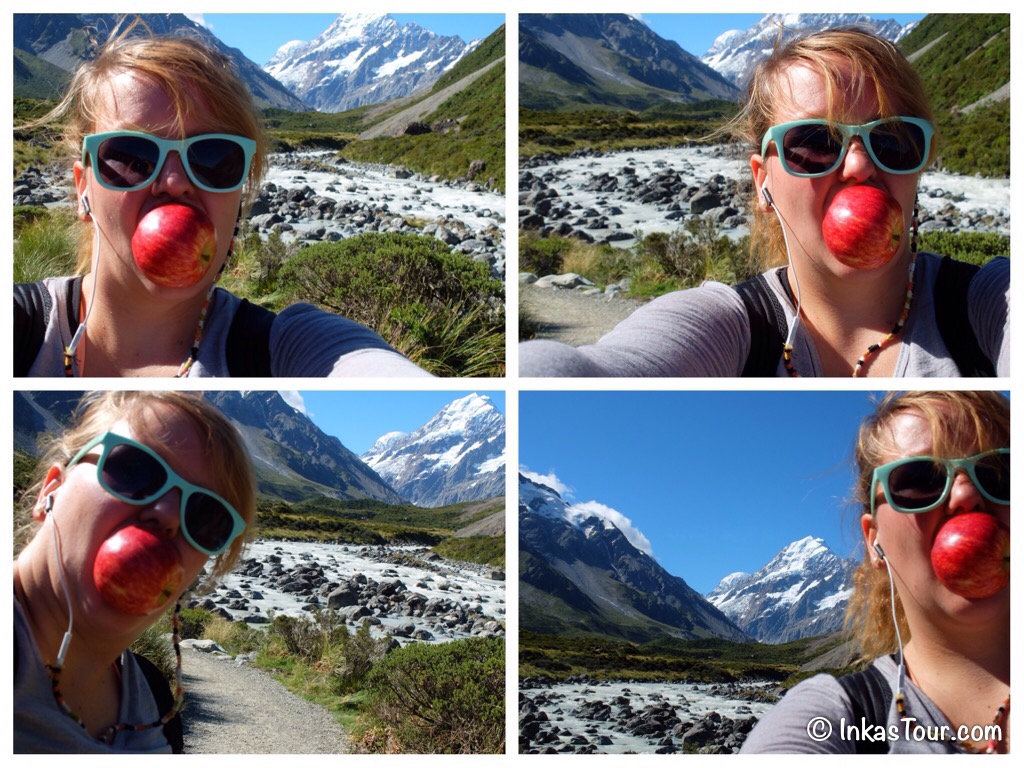 So, I started of walking along the Hooker Valley Track, inching closer to the impressive Mount Cook. Waiting and Waiting for the challenge to pick up. See I had no idea what I was expecting, well I guess I did figure out at some point that I would end up in front of Mount Cook.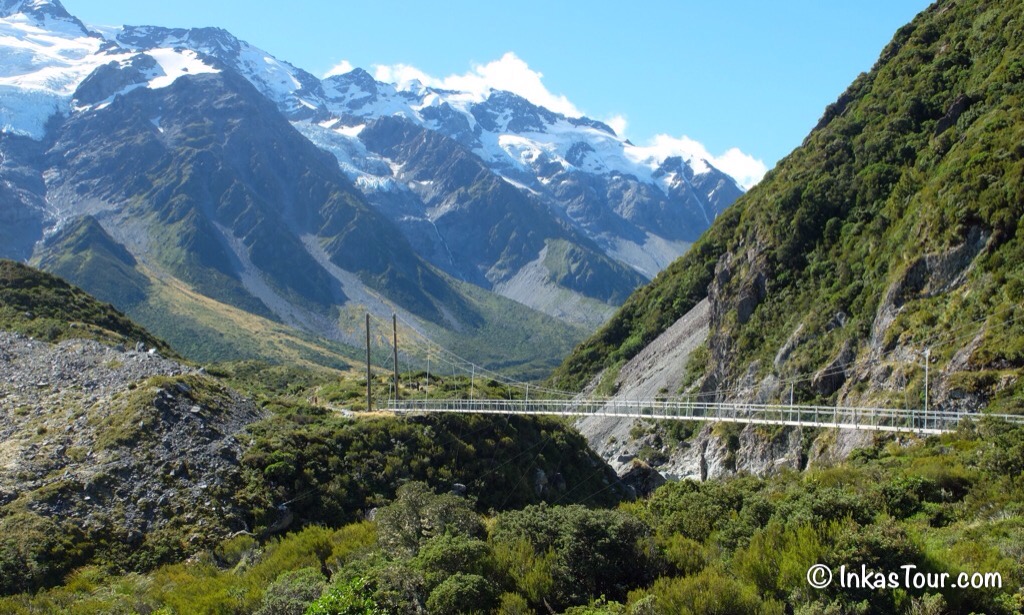 Throughout the Walk, there will be a great view of the Mueller Glacier, there are three Bridges to cross, and they are pretty fancy as well. While the Valley changes from a lush green with Wildflowers on the side to a more open tussock and a wider valley.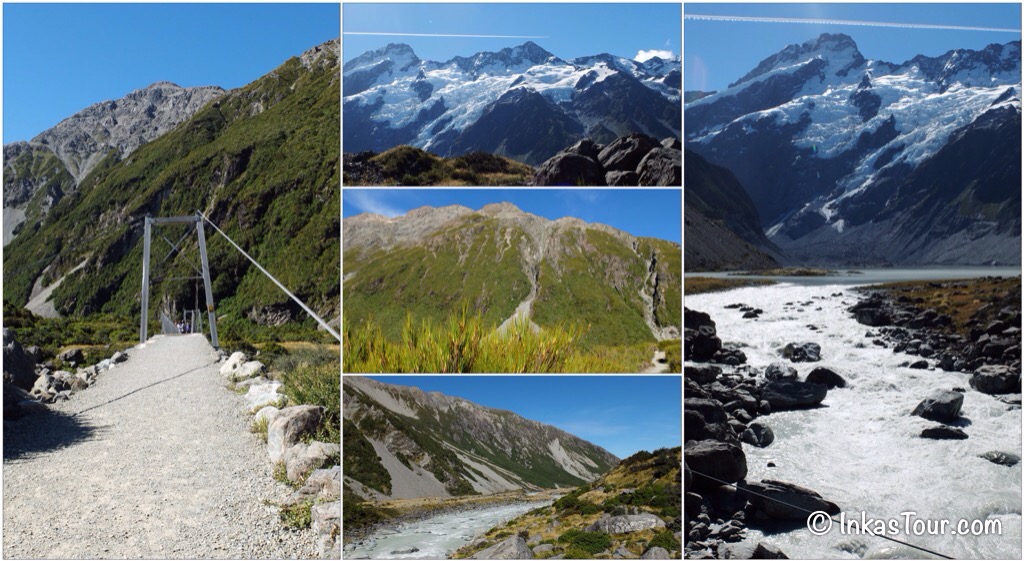 About half way through the walk, after the Second Bridge, there is a small shelter. Lucky for me I did not need to hide myself, as the Sun stayed the whole time. Some days I do believe this could be a good thing, as the weather does change quite quickly.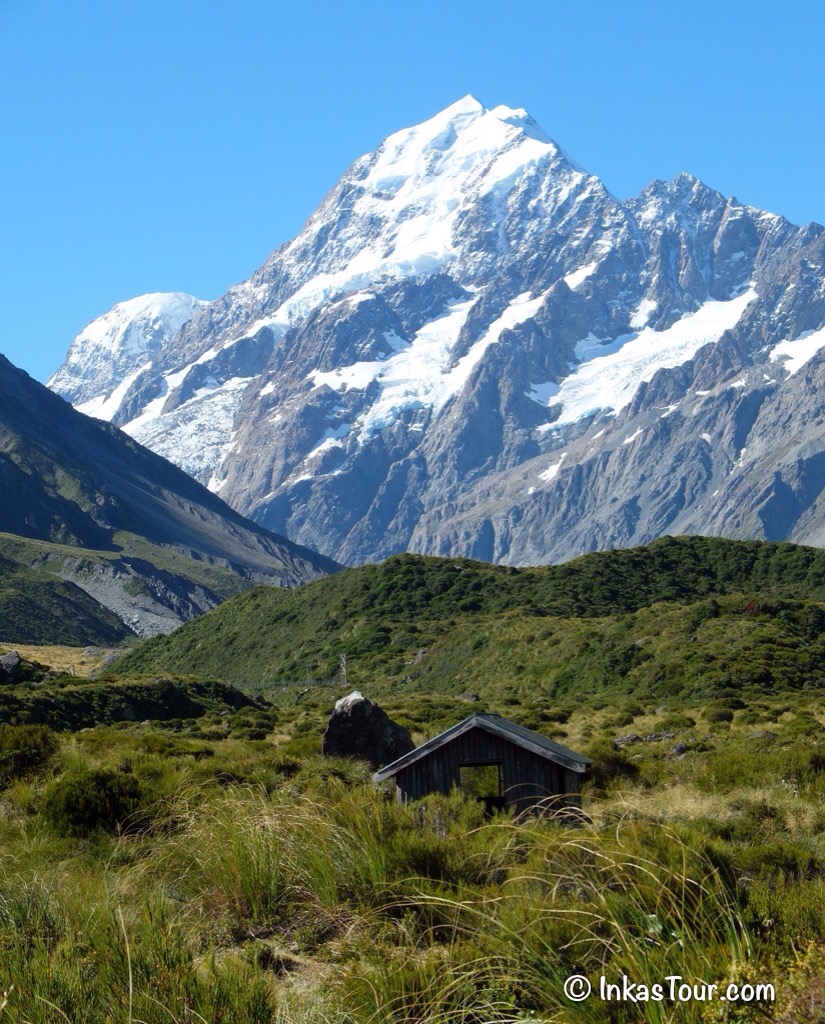 Eventually the destination of the Hooker Glacier Lake right infront of the Impressive Mount Cook/Aoraki. (In Mauri Aoraki means Cloud Piercer, get lucky on a clear day and see the top. Like below, at the "END: of the Trail at the bottom of the Hooker Valley Glacier, with a few Iceberg swimming on top, that did break of the Glacier. The Valley (the part that looks like gravel) underneath Mount Cook/Aoraki is the Hooker Glacier.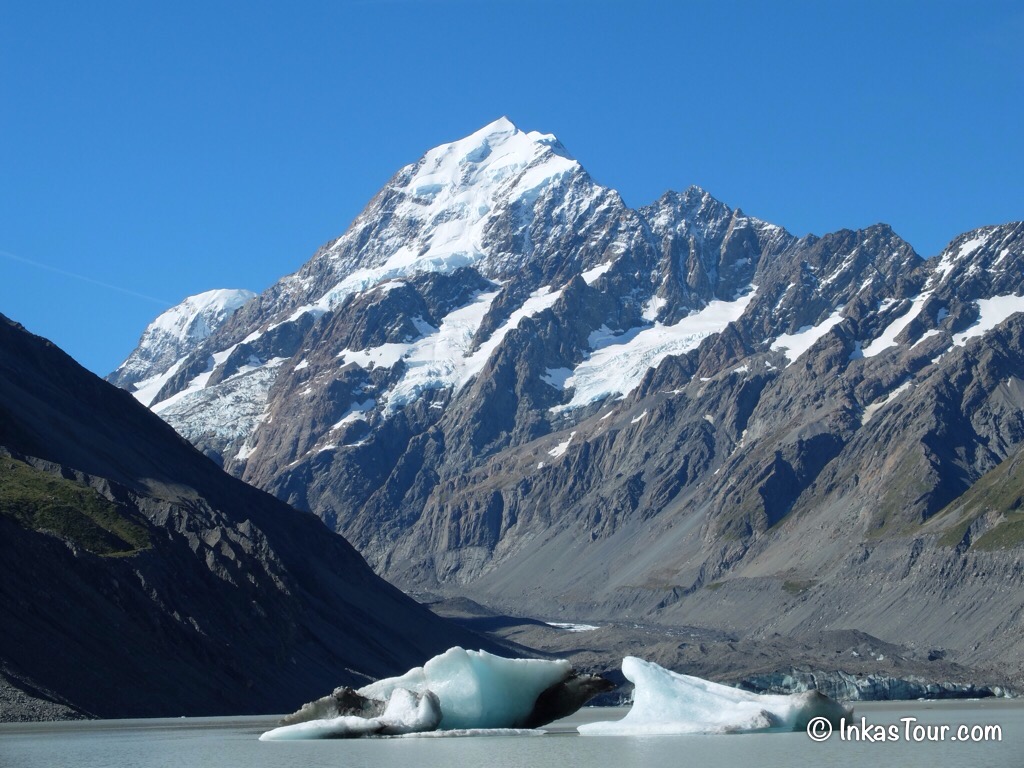 However the Challenge did not pick up, it was just a few bumps that went up and down. I really did find this to be an easy walk, with only 3 hours Return. Even though it was not as challenging as I though it was it was a nice accomplishment regardless. A day where I just felt like I had accomplished something, and I did feel damn good about my self, besides the beautiful Landscape does help a little.  Besides what a great way to spend an Afternoon? Or even having Lunch at the Base of Mount Cook! Please be advised, although this is an easy walk, I do recommend sturdy shoes and flip flops do not count.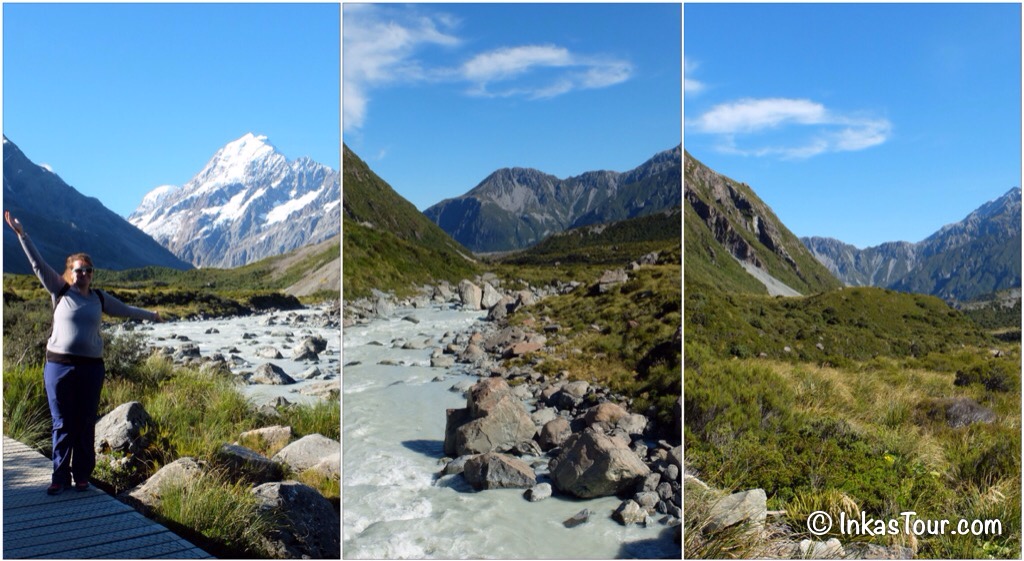 Is the Hooker Valley Track a Bucketlist item for you? Tell me!
---
All content, pictures Copyright © 2015 by InkasTour.com • All Rights Reserved. All other content is copyrighted by the respective authors and linked to Origin.
Receive the latest news & stay up to Date!