Off to New Zealand / Ab nach Neu Zealand
Planning a trip is never easy, but the hardest part, is actually doing it. Throughout the planning there will be a lot of bumps along the road. Originally at this point I had wanted to sit in a plane on the way to South America, but then one of those Bumps happened. Now it's OFF TO NEW ZEALAND!
South America is not crossed of my Bucket List, just delayed. After having a little let down of a travel companion that backed out just before the booking of the flight, I am turning my trip around. South America I will see you in a year, without or without a travel companion. Now I am headed to New Zealand with a Work and Holiday Visa.
Einen Trip zu planen ist nie leicht, aber der schwerste teil ist ihn anzutreten. In der Zeit der Planung gibt es viele Hoch und Tief Punkte geben. Ursprünglich wollte ich zu diesem Zeitpunkt in einem Flieger nach Süd America sitzen, dann passierte einer dieser Tiefs. Süd America ist nicht von meiner Bucket List gestrichen, sondern einfach nur verschoben. Nachdem ich eine Enttäuschung erlitten hatte mit einer Reisebegleitung, die kurz von dem Buchen der Flüge abgesagt hat werde ich nun dieses Trip "Rückwerts" aufziehen. Süd America ich werde dich in einem Jahr sehen, mit oder ohne Reisebegleitung. Jetzt geht es erstmal ab nach New Zealand mit einem Work und Holiday Visa.



A Work and Holiday Visa under the age of 30 are a uncomplicated way to travel and work in a Country. Anyone who says its a year taking of life, I say their wrong. It is an adventure and a experience that will chance a person forever. But most people leave to go back home after the time is up. The Work and Holiday Visa a pretty relaxing way to travel because you will have the chance to stock up on money, which results in not having to safe as much to Begin the trip. Just enough funds that the Country Requires, i.e.. New Zealand, enough funds for a onward/ home plane ticket. Although I do recommend you having enough to be able to support yourself for at least for a month.
Ein Work und Holiday Visa unter dem Alter von 30 ist eine unkomplizierte Art des Arbeiten und Reisen in einem Land. Manche behaupten man würde man ein Jahr Pause machen, I sage die sind Falsch. Es ist ein Abenteuer und eine Erfahrung die einen verändern wird. Viele werden nach dem einen Jahr zurück nach Hause fahren wenn die Zeit vorbei ist. Das Work und Holiday Visa eine sehr entspannende Art des Reises ist, denn man bekommt die Chance einem Fremde Land zu arbeiten, was bedeutet das man im Vorfeld nicht so viel sparen muss. Im Grunde braucht man nur genügen was das Land vorgibt, ex. New Zealand verlangt genug Geld für einen weitergehenden Flug. Allerdings würde ich euch empfehlen genug zu haben um einen Monat leben zu können.
Ocotber 21, was the 25 anniversary of my parents and I returning of a 6 month travel in New Zealand, my Mom has kept a list of all those places over the years, during the year I hope to be able to visit every place I had when I was 2 years old.
Vor 25 Jahren am 21 Oktober, sind meine Eltern und Ich von einem 6 Monaten in Neu Zealand zurück nach Deutschland. Meine Mama hat die Reise mit Stätten festgehalten, Ob ich es wohl schaffe alle orte zu sehen die ich schon mit zwei gesehen habe?
OFF TO NEW ZEALAND!! ALSO AB NACH NEU ZEALAND!!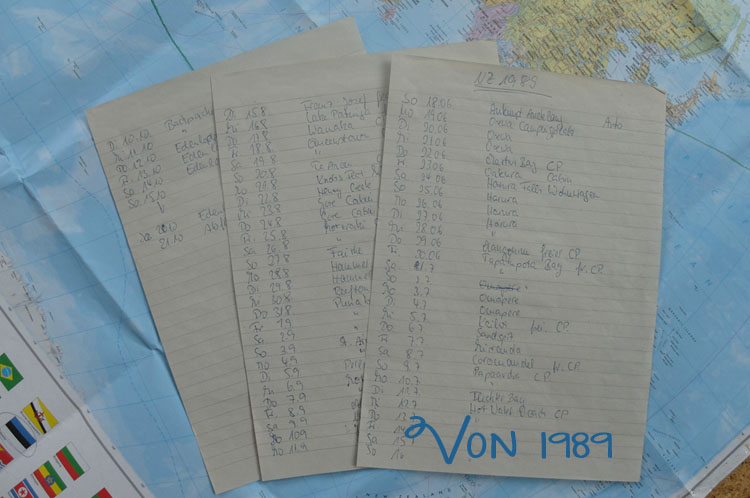 Best Greetings! Mit lieben Grüßen !
---
All content, pictures Copyright © 2015 by InkasTour.com • All Rights Reserved. All other content is copyrighted by the respective authors and linked to Origin.
Receive the latest news & stay up to Date!