Plum Gingerbread Cinnamom Muffins
~ Image your biting into a Chocolate Covered Gingerbread with a a fruity note, then you got this amazing mouthwatering taste of these Plum – Cinnamon – Muffins ~
~ Träume von Lebkuchen und Schokolade, im Einklang miteinander, dazu eine Fruchtige Note, dann hast du den Geschmack in deinem Mund die diese Pflaumen-Zimt-Muffins so aussergewöhnlich machen~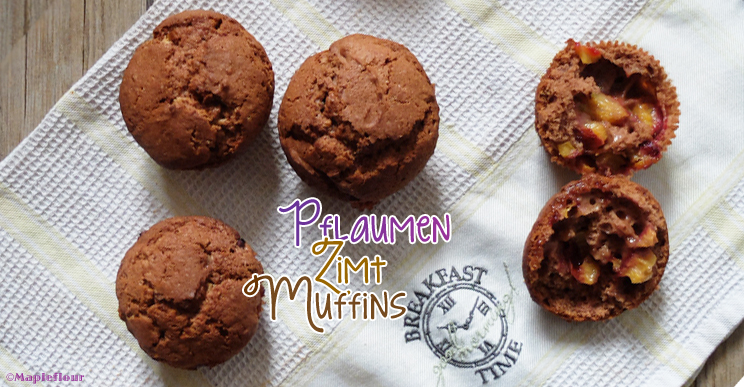 A last time this year for the Plum, even though there are still plenty in the Grocery Stores. The Tree is empty, not a single one is still hanging. The Rain has done it's job making sure I didn't have time and was not fast enough to pick them all.
Ein letztes Mal Pflaumen dieses Jahr,obwohl ich heute noch erst gesehen habe das die Läden noch voll sind. Der Pflaumen Baum ist leer, der Regen hat sie verschüttet so schnell konnte man gar nicht Pflücken. Ein tag waren sie noch Hart der nächste waren sie schon heruntergefallen.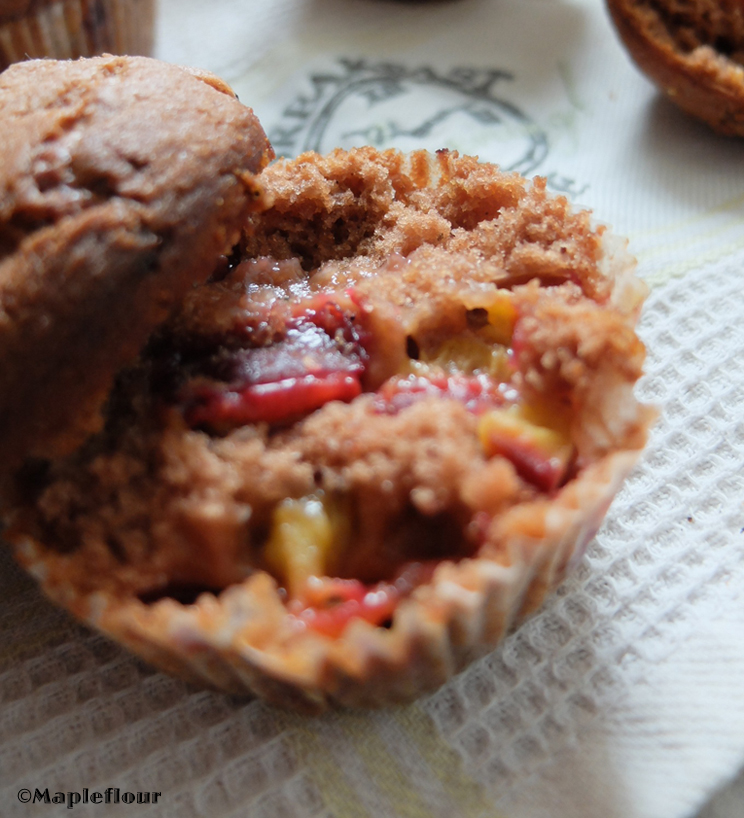 I do and would like to admit that this Recipie's taste kinda happened out of a Blue Moon. I didn't think it would take this well, and def not like Gingerbread. Altough it is Autumn, i kinda don't appreciate that there are Christmas Chocolates in the Store already. Seriously who needs Gingerbread in August/ September? All the taste buds will be ruined by Christmas. However it is the same every year.
Ich muss sagen diese Rezept ist ein wenig aus einem Fluch heraus entstanden. Denn ich hätte nicht gedacht das es so gut schmeckt, und schon gar nicht nach Lebkuchen. Obwohl es erst Herbst ist, bin ich ja eigentlich so ziemlich gegen den extremen Consum. Wer braucht bitte Lebkuchen im August / September, das ist der geschnackt doch Weihnachten total vernichtet. Aber das ich ja jedes Jahr das gleiche.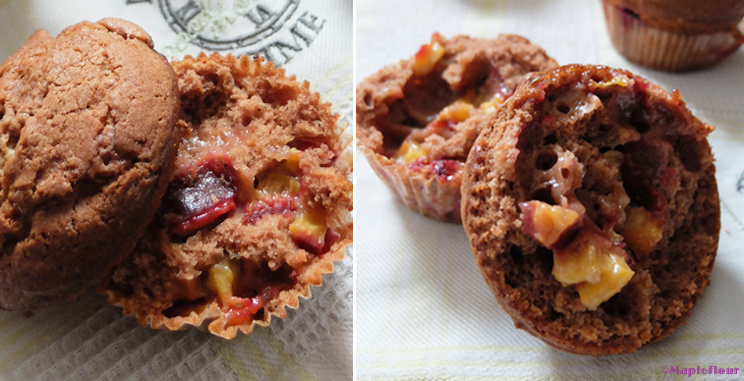 So i will keep this Recipie in German … if you would like a translation or help figuring it out then please, please don't hesitate to contact me at all. I would love to help ya out.
Plum – Gingerbread (Cinnamon) Muffins
Pflaumen – Lebkuchen (Zimt) Muffins
Image your biting into a Chocolate Covered Gingerbread with a a fruity note, then you got this amazing mouthwatering taste of these Plum – Cinnamon – Muffins ~
Träume von Lebkuchen und Schokolade, im Einklang miteinander, dazu eine Fruchtige Note, dann hast du den Geschmack in deinem Mund die diese Pflaumen-Zimt-Muffins so aussergewöhnlich machen.
Zutaten:
65 gramm Butter
113 gramm Brauner Zucker
3 EL Apfelmuß
65 ml Milch
5ml Kakao pulver
1/2 TL Zimt
Prise Muskatpulver
1 TL Backpulver
167 grams Mehl
10 – 12 Pflaumen
Step into it:
Die Pflaumen, waschen, in kleine Stücke schneiden und an die Seite stellen.
Den Backofen auf 180 grad vorheizen.
Die Butter schmelzen und mit dem Zucker, Apfelmus, Zimt und Muskat und mit 55 ml Milch mischen. Die Restliche Milch mit dem Kakaopulver mischen, und ebenfalls zu der Masse hinzufügen. So entsteht das der Kakao gleichmässig im Teig verteilt ist und keine Klümpchen verteilt sind. Das Mehl mit dem Backpulver mischen und zu den "flüssigen" Zutaten mischen. Dieses geht am schnellstem mit dem Rührgerät allerdings würde es auch mit dem Klassischen Schneebesen ohne Probleme funktionieren. In 6 Muffinformen, die form 1/4 mit der Teig Masse füllen. In jede form einen Esslöffel der geschnitten Pflaumen füllen. Das gleich noch mal wiederholen, so das die form etwas 3/4 voll ist. Die Pflaumen leicht in den Teig drücken.
Das ganze ca. 15 Minuten backen, auskühlen und geniessen.
Alright so indulge, don't let the Gingerbread scare you really, i know it's not Christmas yet but it really is a great combination with the Fresh Plum.
Also last es euch schmecken, und lasst euch nicht abschrecken. Auch wenn es noch nicht Weihnachten ist, der doch dezente Lebkuchen geschnackt passt echt gut zu den fruchtigen Pflaumen.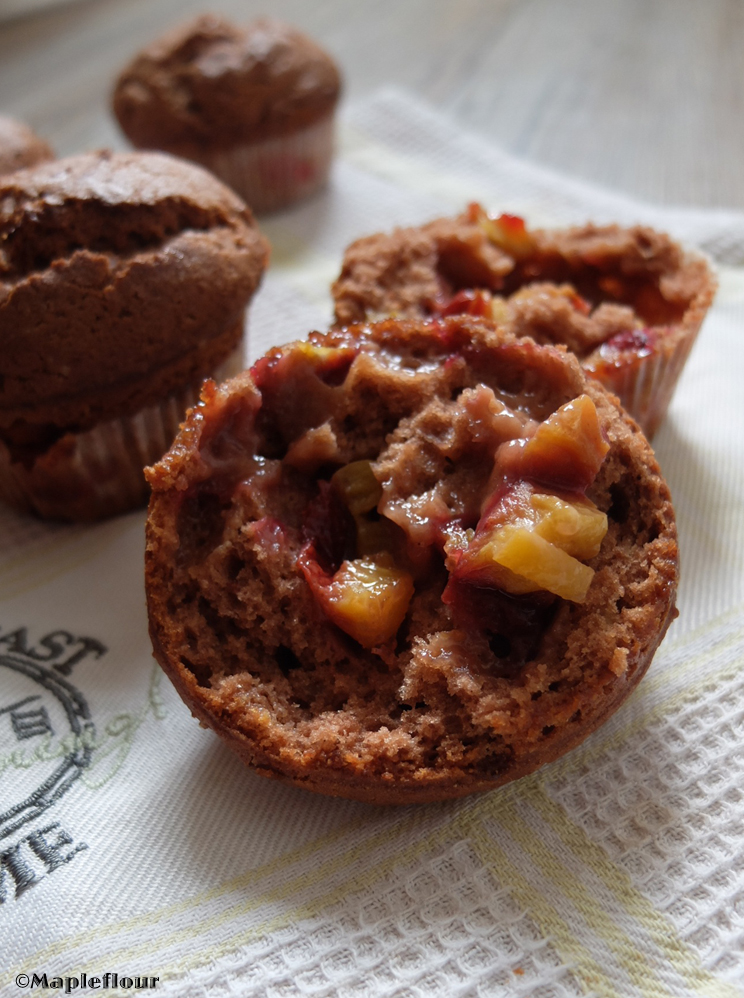 ---
All content, pictures Copyright © 2015 by InkasTour.com • All Rights Reserved. All other content is copyrighted by the respective authors and linked to Origin.
Receive the latest news & stay up to Date!