Torrone Italian Nougat Recipe – December 16

December 16 
How did you like the Phillipeans yesterday? I really thought it was amazing to learn about the longest Christmas Tradition in the World. But after being in Asia the past two days, today we are traveling back to Europe. Some people would say it is France others would say it is Italy. Well for now we are going to say Italy because it's getting sweet. Have you ever heard of Torrone? It is an Italian Nougat. YUM! Well Laura has got the Torrone Italian Nougat Recipe for us today.
Let's meet Laura:
Laura is an Italian who started her expatriate life at the age of 15. To date she has lived in 5 countries, Norway, UK, USA, Monaco and France. She has now settled on the French Riviera with her family, her Irish husband Robert and their two boys Liam and Francesco.

Her love for food has been a lifelong passion and followed her during her travels and overseas relocations. She has always been eager to discover new cultures through their culinary traditions and produce.

Two years ago, she set up her Blog "Your Guardian Chef" to help food lovers discover the Mediterranean cuisine of the Cote d'Azur, both Italian and French. She writes about local produce, shops, recipes, local gastronomic events as well as French and Italian traditions. But that is not all.

As an expatriate, she appreciates the attachment to the food we grew up with. So, Laura also seeks to adapt many American and British recipes using local ingredients, finding replacements and substitutions.

She will have recipes for everyone, meat and seafood lovers, vegetarian, vegan and celiac but steers clear of ingredients with fancy names. For Laura Superfood is regular food with a price tag. She holds a Level 2 Food Safety & Hygiene Certificate and her best friend is the environment.
What makes Christmas special to Laura?
Enjoying the family, being all together eating a lavish meal. Giving presents to the children to see their happy faces. But most importantly is celebrating the bird of baby Jesus.
I grew up in Rome and when I was young my father would take us to the Midnight Mass in Saint Peter, a majestic ceremony. Now that we are in France, we go to the small medieval church of the Dominican Convent of Saint Paul de Vence. A much more cozy commemoration enhanced by the ambiance and the nuns choir.
That for me this is Christmas
Torrone Italian Nougat Recipe 


by Laura Tobin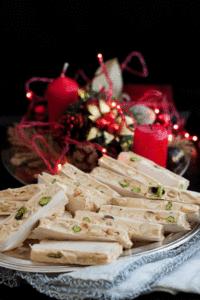 The Italian and the French cuisine have a lot of similarities, Torrone is one of the most popular Italian Christmas desserts and is the same French nougat recipe.
Usually exchanged as edible gifts, torrone/nougat is a caramelized mix of marshmallow and honey filled with toasted almonds and pistachios. There are hard and soft versions, this is the soft one.
Photo Credit : www.yourguardianchef.com
GET THE RECIPE for the Torrone Italian Nougat.
Looking at the Photo it makes it want to try this Torrone Italian Nougat Recipe. Something like this up your alley?
---
All content, pictures Copyright © 2015 by InkasTour.com • All Rights Reserved. All other content is copyrighted by the respective authors and linked to Origin.
Receive the latest news & stay up to Date!