Valparaiso, Chile –  A grafitti covered City!

A New Continent, and a whole New world. Exploring Valparaiso, Chile.
This city has is covered with colorful house and graffiti everywhere. Some of it quite beautiful and is like Art where the odd few just looks like nothing much. It makes everything look a lot more pleasant and interesting. If you have been to Wellington, New Zealand you may think it looks a lot like it. I beg to differ and probably would not have made the connection had someone not pointed it out to me. There may be a small resemblance.
Valparaiso, Chile used to be one of Americas most important ports until 1914. It was the Port all major Shipping Companies would stop, refuel and get rid of any items they did not need anymore, such as Paint, Metal and such items. Coming from Europe and heading around the South America Continent towards Alaska, where the Gold Rush was in full swing. The start of the World War had nothing to do with this drastic chance in 1914, but rather the opening of the Panama Canal. This gave access through the American Continent. The Journey to the Gold became easier, and Valparaiso lost the advantage of location. This does not mean there are no ship going this way. It is still operating as a port, and you'll still find Cargo Ships, it has just lost its importance since then, and a port further up the Coast has now become more Significant. To get a good view of the Harbour head up via the elevator to Plaza de 25 Mayo. It also gives a great view of the City.



It does not Matter if you spend a day or three days in the city, I would recommend doing a free city Walking Tour. Not only do you get a lot of inside information (maybe too much, which you won't remember at of)  but I almost think with the maze of the 54 Hills you could easily get lost. It could only be me though!
I found Valparaiso to be a modern and vibrant and lovely city, the street art everywhere made it look unique and individual. It added a character, and with the Colorful Houses it gives it a unique contrast. Back when the port of operating, the poorer Valparaiso Residents would take the Paint from the Harbour that ships left behind; in order to protect their Houses. The material their Houses was/are build out of is a Sandstone, which is not ideal for the Ocean Air, corrosion being frequent. Nowadays the Housecolor acts like a Housenumber. Often you will on Address an added remark - the yellow house beside the blue - (for example). It only makes the Postman's life easier.
Another thing that the Valparaiso Residents seem to be proud of is their list of firsts. In Valparaiso you will first the Fire station of Chile, nowadays known as the American Fire station. Which happens to be right beside the German Firestation, with German Firetrucks. I found this strangely odd. Other first include the first Church with a Cross, as well as the First Church with a Cross, the first Bank can be found in Valparaiso.
On the last Day I enjoyed a Beautiful Sunset at the Marina of Valparaiso. It was a good way to end my stay, before leaving for Mendoza early in the morning over the Los Libertadores. Oh did I mention that you are able to see Seals and Pelicans. So unexpected.
Oh and make  sure to take a ride  on the Tram, for only 100 pesos you can take a whole city tour, riding around and seeing the city. This is at the Main Square, guards overlooking and somehow they just don´t stand as still as the once in London.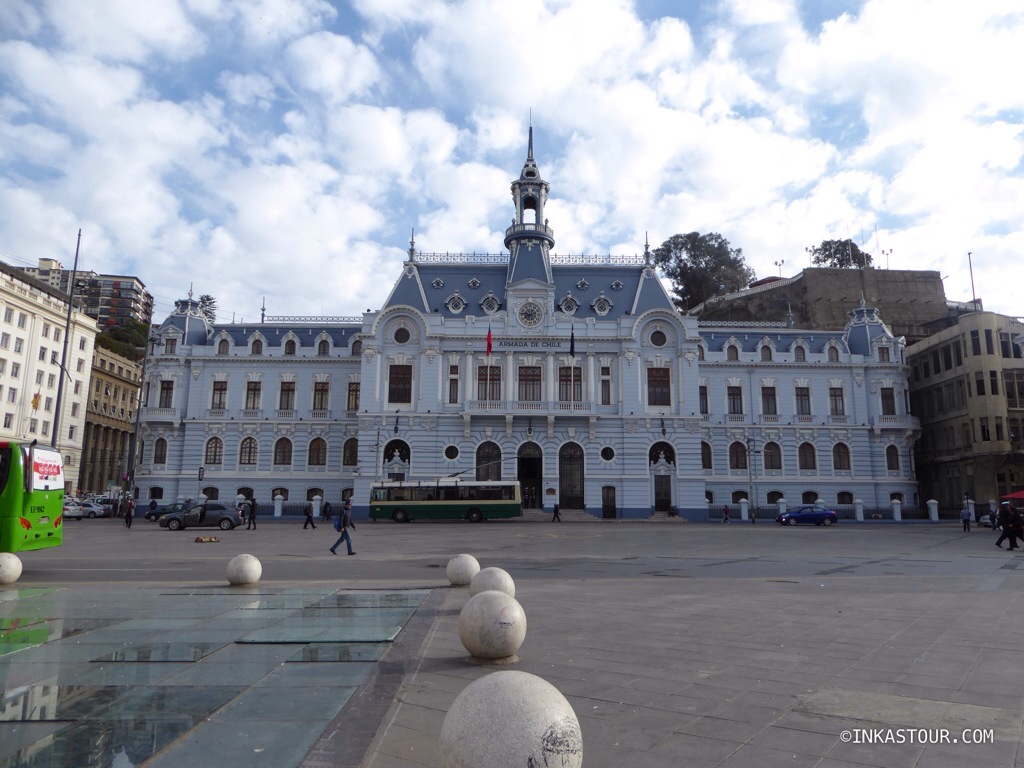 All around the City there are people with there stalls, selling anything from Food, Technology Items, and even Tools. A good place to get some local Produce is also the Central Market. Its amazing to watch, how they yell then battle each other to sell more. It is like a daily Farmers Market. If you want ot try an Empanada, you should check out this place onUririola Street they have 60 different flavours.
However what really stuck out to me was one thing. Exploring a city would not be the same without continuing being on the hunt for Garbage Cans. It's something that has become such a part of my travels that it is an automatic attraction like a Magnet. Valparaiso was Heaven for this. Not only was the City covered in Graffiti but so where the Garbage Cans. If you know my story with Garbage Cans you will understand, but
Valparaiso, Chile
is heaven for this. Artists have integrated the Garbage Cans in such a way it is art all on its own.
I really enjoyed my stay in Valparaiso, Chile although at times I really did feel as if I was in Spain. Coming from a European Country or having spend the last month in New Zealand it really is a change, that take a little to get used to.
One of the things that will always stay with me from Valparaiso, Chile are these delicious Cookies, Alfajores! Have you tried them?
---
All content, pictures Copyright © 2015 by InkasTour.com • All Rights Reserved. All other content is copyrighted by the respective authors and linked to Origin.
Receive the latest news & stay up to Date!